The Talent Heats Up When 'America's Got Talent' Hits Atlanta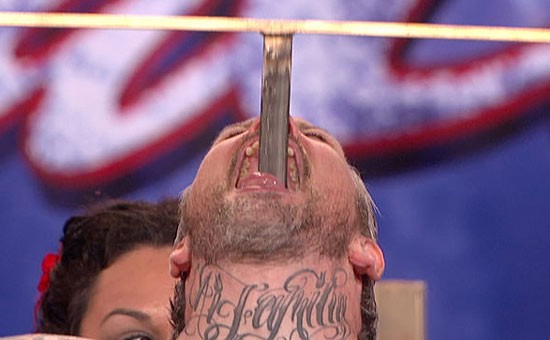 The America's Got Talent judges got an eyeful and an earful when they hit Atlanta for another round of auditions and contestants vying for a bid to Vegas.  Hotlanta so it should be called was on fire with the first three contestants getting a ticket to Sin City. First up, Hershae Chocolatea the name says it all.
Hershae Chocolate or 31 year-old Hershawn Gardner was a drag queen and celebrity impersonator. First on her/his list Macy Gray with an amazingly on point performance of " I Try" Gardner stunned and rallied the crowd with his dead on impression complete with afro and unmistakable tone.  Gardner followed that up with Donna Summer and a wild dance number complete with cartwheels and splits, leaving host Nick Cannon wondering if he pulled something and the judges split on whether to send him to Vegas. Sharon and Howie agreed with the audience that he was thoroughly entertaining and that they wanted to send him to Vegas while Piers begged them to tell him what they saw because he was obviously missing something. Sharon said " A sense of humor. So, Hershae Chocolate makes it to Vegas.   The next act got things jumping. When the Summerwind Skippers showcased their act, as a jump rope team and a routine with intricate tricks and flips.  The fiddleheads were interesting but in no way unique a bluegrass band that takes popular rock/pop songs and changes the arrangement to a country tinged tune, nothing that hasn't been done before.  DJ Face made it to Vegas based on the fact that he was six and who is going to tell a six-year old no but the little guy did have some pretty sophisticated skills for someone his age.  Next Attack Dance Crew once again left the judges divided.
Attack Dance Crew is a group of college-aged guys ranging from 19-25 a dance group they are unique in the fact that they take elements of stepping and drill team moves with synchronized precision and upbeat and popular music and combine the two for an enjoyable performance. Tonight's song choice Justin Beiber's "Baby" might not have been the right one and I have to agree.  Sharon and Piers praised the act and Piers called them " fresh and cutting edge", Howie disagreed. Howie compared them to a high school cheerleading competition. Ouch! Either way they are headed to Vegas.  The Next contestant is? Even host Nick Cannon can't figure out what it is but according to him " whatever that is, it's nasty".  It turns out it was a man named Joseph Raven.
Raven appears onstage in a flesh-colored spandex bodysuit with lips cut into the middle. He then proceeds to hop on a unicycle and start spitting something out of his "lips". I'm not sure anyone still quite knows what it was but it's three no's and it's onto the next contestant who doesn't seem to fair any better.  Roboman is just that a man pretending to be a robot only with no personality or talent.  He is followed by Kevin Jasper with his North Carolina Hollering; the rest of the world just calls it noise or sound effects.  Mr. Shake It Up didn't do much to shake up the judges but the Captain and Maybelle did and not in a good way.
Captain and Maybelle are a husband and wife team who has created a life-threatening act acted out to be a play, though the grotesque act did nothing to impress the judges. The Captain brought out his swords swallowing them, followed by a large metal object that was attached to weights. Although it didn't please the Judges it was enough to please the audience and based on that they got their ticket to " Sin" city. The next act was singing duo Armand and Angelina who looked they like they might actually have some promise.
Armand and Angelina are a couple who both enjoy the arts and have combined their singing abilities and love for music to create Rock-opera as new art form. Singing Celine Dion's " My Heart Will Go On" turned disastrous it was discovered both were off in pitch and melody.  However, the judges gave their experiment another shot sending them to Vegas. Next was the stunner for this season so Anna Graceman who closed the show,
Anna is an 11-year old pianist and singer she performed a soulful and mature rendition of Alicia Key's " If I Ain't Got You", leaving how and the audience saying " your only 11" and " tomorrow everyone is going to know who Anna Graceman is". We certainly will, tune in next week to see who's got talent.