The Super-White 2012 Kardashian Family Christmas Card Is Here!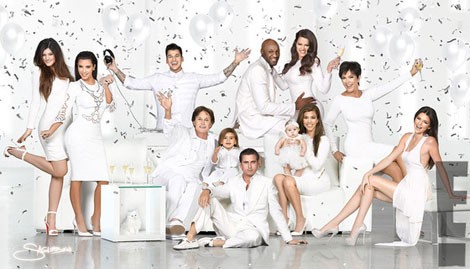 Well, it's that time of year again - the Kardashian family Christmas card is here! This year, they're celebrating in all-white... and with a deceased loved one.
Clockwise from left, Kylie, Kim, Rob, Lamar, Khloe, Kris, Kendall, Kourtney with Penelope, Scott, Mason and Bruce all shine in the shot - although Kendall steals the show with her little dress and long legs. Also in the picture is Mercy, Kim's kitten who died recently due to an aggressive illness. 
Several of the family members couldn't be there for the shot due to sickness or business. Standout Kendall was ill on the day of the shoot, Lamar was travelling with his NBA team, and Khloe and Scott also missed being there live.
Still, thanks to some inventive use of Photoshop, the gang's all there. Most likely, there was a bit more work on the photo to trim figures, too. One oddity is that there is no shadow in the entire pic - except around Kim's famous rump to make it stand out in front of Kylie!
What do you think of the "Kardashian Kristmas Kard" this year?