The Suitless, Savvy Women of 'Suits' & Their Unrealistic Fashion Choices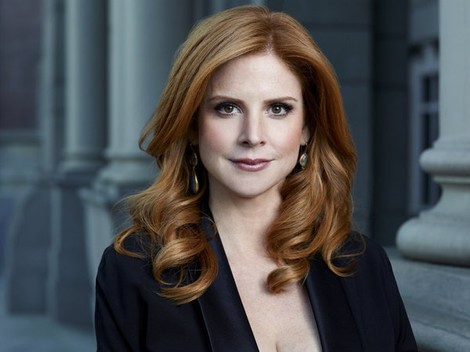 "Do I have anything to worry about?" I asked my husband, Neil, who is a partner at a Manhattan law firm. We were watching 'Suits' and Pearson Specter's Managing Partner "Jessica" (Gina Torres) had just shimmied into a colleague's office early in the morning wearing a tight, knit, off the shoulder dress that some of us would probably only don for a late dinner. Not only was it slinky, it was white. Aside from my wedding day – and the occasional T-shirt, I don't wear that color. There would be ink and/or coffee running down the front of it by lunchtime.
"Do attorneys at your firm dress like that?" I had to know. Neil rolled his eyes.
I figure though that Jessica is the exception to the rule since she is a name partner, hence the face of the firm.  But in an even more recent episode when she wore a Vogue-worthy, light pink dress with three-quarter sleeves, each with a gigantic ruffle covering her forearms, she looked less like a great legal mind/tough as nails boss and more like Kate Middleton on the way to a royal…whatever.
Then executive assistant "Donna" (Sarah Rafferty), and her three alarm fire hair color,  va-va-va-voomed on screen in a formfitting number that was low cut in the front and had a slit up the back. I've worn dresses like that to social events and found it really uncomfortable to sit through dinner, and can't imagine sitting for eight hours, plus typing, in one.
 Donna is beautiful, but also whip-smart. I'm not saying she shouldn't dress well or even show off her enviable figure, but, for example in the season 2 episode where she's fired (temporarily), her silky cowl neck tank top leaves nothing to the imagination when she bends over. "The girls" begin to spill out like a too-full cup of coffee in one of Louis' LITT UP mugs. In real life, once she got noticed for her cleavage, it would distract from the fact that she's more on the ball than most of the firm's attorneys.
"Do the secretaries…?"
"No," Neil said, threatening that this would be not only the first, but last time he'd ever watch this show with me.
I relaxed a little when in the next scene paralegal/Columbia law student "Rachel" (Meghan Markle) appeared dressed down in comparison, sashaying about the hallway in a cropped sweater and short, swingy skirt. Neil preempted my question and said, "Not like that either."
Rachel is less about the plunging v-neck, and errs more on the side of the too tight. She reminds me of those women who squeeze themselves into the smallest size available to prove they're not fat. When something doesn't fit, even the most expensive ensemble can look cheap.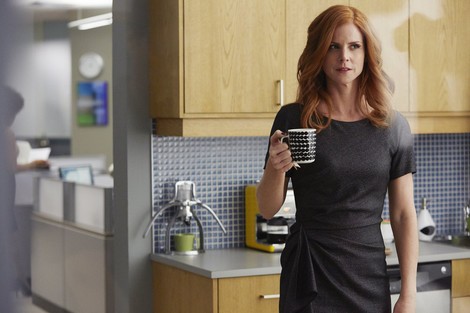 In an actual office, seasoned co-workers often don't take the young, adorable employees seriously simply because they haven't worked long enough to know anything – even if they're smart enough to attend the Ivy League at the graduate level. Someone like Rachel doesn't do herself any favors convincing the higher ups that she's serious if her wardrobe has a hint of cocktail waitress.
As progressed and several more impressive wardrobe changes ensued, I figured a top attorney like Jessica could afford anything she wants, but questioned how much legal secretaries and para's make in order to afford runway caliber outfits. Neil just put his face in his hands and shook his head.
Although I'm relieved that Neil's surrounded all day by the more professionally attired, the style of these women – albeit inappropriate/unrealistic for work much of the time (taking over for the women of 'Sex And The City') –- is just one of the reasons that I keep tuning in each week.
They're also savvy, and their swagger rivals that of hot shot "Harvey" (Gabriel Macht), cutthroat Louis (Rick Hoffman), as well as the sweet, yet rather brazen "Mike" (Patrick J. Adams), who is a lawyer with no law degree turned investment banker. (Everyone should be able to switch careers so seamlessly.)
I make mental notes of the clever banter, quick comebacks and everyone's ability to stand up for themselves both personally and professionally, like in this exchange from early on when Rachel wants in on a big case:
Jessica: "You're not even a lawyer."
Rachel: "But I will be. And when I am I want to work here…I have been killing it here for the better part of a decade. I'm better than most of the associates in that bullpen and I haven't even gone to law school yet. So imagine what it'll be like once I have."
Part of me wants to believe that if I watch long and hard enough what they've got will rub off.
When the credits began to roll, I pointed out to Neil that aside from their questionable outfits, these ladies do know how to accessorize, explaining that once, after negotiating a big deal, Harvey took Donna to Hermes and bought her a Birkin bag for her job well done assistance. Neil assured me that he knows lawyers, "who wouldn't buy their wives a Birkin bag let alone one of the support staff. "
FYI: He is one of those lawyers, making me one of those wives. Despite that, I can still live vicariously each Wednesday night at 9pm EST.