The Strange And Surprising Career Of Cameron Diaz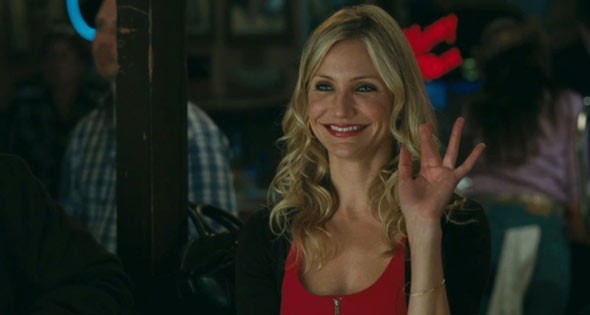 Cameron Diaz is anything but a predictable actor. This Friday, "Bad Teacher" opens and will showcase Diaz's R-rated comedy skills opposite Justin Timerlake and Jason Segel, an alumnus of the Judd Apatow school of raunchy humor. Directed by Jake Kasdan ("Walk Hard: The Dewey Cox Story"), Diaz stars as the world's worst teacher who would rather get high in her car than teach her kids anything. While most moviegoers see her as just a pretty face who pops up in mediocre films, Diaz has had an incredibly unique and varied career in Hollywood over the last two decades.  
Her breakthrough role came in 1994 in "The Mask" as Jim Carrey's love interest Tina Carlyle. No one spoke much about her performance, but her sexuality and beauty were immediately noticed and could easily explain at least a small part of the movie's $119 million gross. Surprisingly, after starring in one of the biggest movies of 1994, Diaz chose to follow it up with several independent features with varied results. She starred in the dark comedy "The Last Supper" which addressed ideological fanaticism and the dangers of taking politics too seriously. Then she gave a wonderful performance as the selfish, immature Heather in Edward Burns' "She's The One" which also starred Burns and Jennifer Aniston. In 1996, she appeared with Keanu Reeves in the misguided semi-road movie "Feeling Minnesota" which was the first real stumble in her young career.
Diaz returned to mainstream Hollywood in 1997 in "My Best Friend's Wedding" as the bride whose wedding Julia Roberts is trying to derail. Her naiveté and sweetness were contagious and added a great contrast to Roberts' high-strung career woman character. It was the Farrelly Brothers, though, that made Diaz an international superstar, however, in the 1998 gross-out comedy "There's Something About Mary." In the movie, Diaz showed off not only her comedy skills, but her ability to hold her own in any boys club in town.
Over the last ten years, Diaz has appeared in at least one film a year, on average, and has worked with some of the most respected directors in Hollywood:
-          "Being John Malkovich" (1999), Spike Jonze (director)
-          "Any Given Sunday" (1999), Oliver Stone (director)
-          "Vanilla Sky" (2001), Cameron Crowe (director)
-          "Gangs of New York" (2002), Martin Scorsese (director)
-          "In Her Shoes" (2005), Curtis Hanson (director)
-          "The Box" (2009), Richard Kelly (director)
-          "The Green Hornet" (2011), Michel Gondry (director)
Diaz has also been a part of the "Shrek" franchise which has grossed over $1 billion collectively. She's currently filming the heist movie "Gambit" with Colin Firth and Alan Rickman which was written by Joel and Ethan Coen, two of the most celebrated filmmakers of all time.
Has every one of her films been a success? No. Has she had some bombs? Yes. But overall she is clearly a very intelligent performer who knows how to choose a project wisely which includes balancing big-budget comedies with serious indie films. She has had the chance to work with amazing actors and directors and though she is by no means next in line to win an Academy Award, her willingness to try new things is admirable and her refusal to be type casted is impressive and refreshing.