'The Social Network' Continues Pre-Oscar Streak With DC Critics Win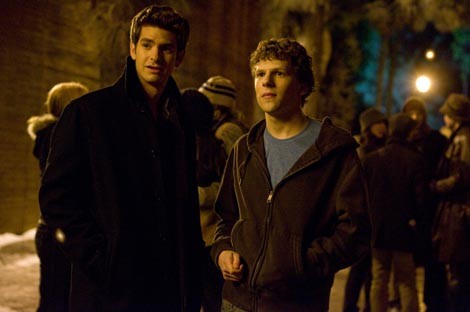 Looks like 'The Social Network' is the film to beat come Oscar time - for now.  It won Best Picture with the Washington DC Area Film Critics Association - its second such win in a week.  The film also won Best Director (David Fincher) and Best Adapted Screenplay (Aaron Sorkin).
Colin Firth picked up his first Best Actor prize for 'The King's Speech' while Jennifer Lawrence nabbed Best Actress for the thriller 'Winter's Bone.'  The supporting prizes went to a pair of actors from 'The Fighter' - Christian Bale and Melissa Leo, who are near-locks for Oscar nominations.
Here's a full list of winners.
Best Film:
The Social Network

Best Director:
David Fincher (The Social Network)

Best Actor:
Colin Firth (The King's Speech)

Best Actress:
Jennifer Lawrence (Winter's Bone)

Best Supporting Actor:
Christian Bale (The Fighter)

Best Supporting Actress:
Melissa Leo (The Fighter)

Best Acting Ensemble:
The Town

Best Adapted Screenplay:
Aaron Sorkin (The Social Network)

Best Original Screenplay:
Christopher Nolan (Inception)

Best Animated Feature:
Toy Story 3

Best Documentary:
Exit Through the Gift Shop

Best Foreign Language Film:
Biutiful

Best Art Direction:
Luke Freeborn, Brad Ricker and Dean Wolcott (Inception)

Best Cinematography:
Wally Pfister (Inception)

Best Score:
Hans Zimmer (Inception)