'The Sleepy Hollow' Cast Bewitches At NYCC Interviews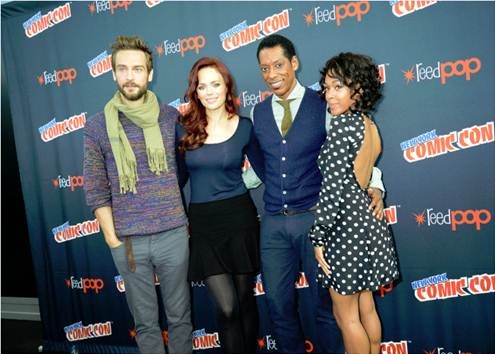 I've made no secret of my utter 'Sleepy Hollow' obsession. Unsurprisingly, I loved interviewing co-stars Tom Mison, Nicole Beharie, Orlando Jones and Katia Winter alongside producers Alex Kurtzman and Roberto Orci at New York Comic Con. As someone who continuously re-read the short story, visited the Sleepy Hollow/Tarrytown area and re-watched the Disney cartoon/Tim Burton remake, of course, I leapt on the 'Sleepy Hollow' wagon when it rolled into town. The show surrounds American revolutionary hero Ichabod Crane (Tom Mison) resurrected in modern-day to protect humanity from the celestial unrest wrought by his colonial enemy, the Headless Horseman. Connecting with Lt. Abbie Mills (Nicole Beharie) and her Captain (Orlando Jones), together, they work to prevent the horseman and his supporters from unleashing modern mayhem. Occasionally, Abbie and Ichabod receive assistance from Ichabod's wife Katrina (Katie Winter), who is trapped between worlds and temporalities.
Even at the show's roughest early spots, the connection between Beharie as Abbie and Mison as Ichabod rocked. I loved watching them utterly vow undying faithfulness to each other as Witnesses and sacrifice themselves for each other. While I don't know where the "Crabbie" road will lead, watching Abbie utterly josh Ichabod for his upright, Colonial Britishness and watching Ichabod devotedly support Abbie is amazing to see. While I secretly wanted to interview Beharie and Mison together to see if their chemistry held in real time, the organizers smartly created three separate groups including the British time travelers, the American cops and the production staff. Of course, when possible, I asked each group about the "Crabbie" relationship and their character development.
British Invasion – Tom Mison (Ichabod) and Katia Winter (Katrina)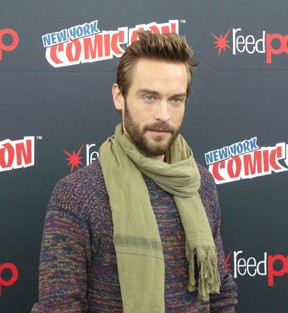 Tom Mison's the modern-day equivalent of his character. Red carpets aren't as glamorous in reality as they seem on TV. Almost everyone wants a perfect, personality-displaying shot for their outlet. 80% of the event surrounds photographers shouting "over here" and "give us a smile." The more red carpet experienced actors carefully negotiate each carpet section and keep mayhem at a minimum. Now imagine Ichabod Crane on the American, paparazzi-filled red carpet. Do you think he'd smile, twirl around and give each writer/photographer the business? Probably not. No doubt he'd stand in one place, ignore the chaos and maintain his dignity, until the indignity ended. That's exactly what Tom did. He stood his ground. Although most of the photographers begged him to look their way and give them a smile, he looked around uncertainly, almost Ichabod-like as flashes snapped around him. He didn't actually open up until someone complimented his shoes. Then, we saw his personality flow forward. The same thing happened when he arrived at the table. Whenever anyone asked him a question, he appeared very proper and very British. Seriously, he uses words like "mum" – how much more British could you get? But, when I asked him how he might balance Katrina's possible return to contemporary society with his Abby bromance, all of a sudden Ichabod's charm and sly killer smile rolled forward. "These wild assumptions always assuming there's something with Abbie. I'm looking forward to it as much as you are."
As the interview progressed, his natural humor willed out. The entire table could not stop laughing at his coy British charm. He jokingly called his character's sassiness his "natural affinity with Roger Moore." Before the show premiered, he found himself explaining the show to his family and ending with "but it's really good." While I don't quite trust Katrina, after all, how can you hide witchcraft from your utterly liberal-minded husband and how can you survive centuries of isolation between worlds without going insane or making dark deals? While Katia gave nothing away, she's as beautiful as her character. For more, check out the interview here http://youtu.be/Vz5cC2WjsGs or below.
Producers Alex Kurtzman and Roberto Orci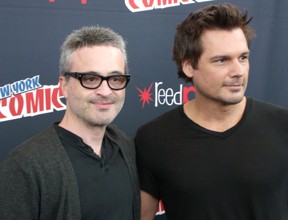 I had a gazillion questions for producers Alex Kurtzman and Roberto Orci. While I loved the show, I felt the initial episodes lacked the cohesion and focus of the latter episodes. Additionally, the original Ichabod in Washington Irving's short story was a greedy coward. While I love the revamped Ichabod in Tom Mison's hot body as the perfectly chivalrous gentleman, I wondered their impetus for doing so. "If you're going to do something and put a twist on it to re-present it, you've got to do something different … And, there's another side of our Ichabod that plays him into being a little bit tougher and we'll see that mid-way towards the end of this season what his true mission is." They described 'Sleepy Hollow' as "Halloween every day" and Roberto hopes to direct other episodes. From the sounds of it, they won't let up on the action anytime soon. For more, check out the interview  here http://youtu.be/8RI0D-7iDVU or below.
American Spice – Nicole Beharie (Abbie) and Orlando Jones (Captain Frank)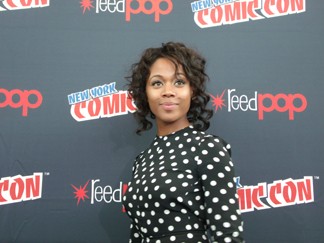 Nicole and Orlando hit the red carpet in an explosion of energy chatting with the photographers and sharing their enthusiasm with the room. Nicole complimented my hair while saucily tossing poses to each red carpet section. Even though Tom Mison appears a foot taller than Abbie on TV, Nicole plays such a strong character, I still expected a 6' woman and not the adorable pixie in the polka-dotted circle flip skirt who stood before me. Orlando also rocked the red carpet with the charm we witnessed during his MadTV stint with a navy blue vest and a "hey, hey, hey, I'm here y'all" charm. When he sat down to the table, he conducted the first half in Tom's utterly posh accent. However, if you expect Captain Frank to crack a smile, Orlando revealed he specifically chose the role because it wasn't comedy. His biggest fear is being pigeonholed or joining shows with overtly broad humor. 
While I want to trust the captain, I find it hard to believe any police supervisor would allow his lieutenant to cease solving active crimes to chase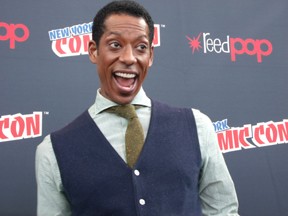 down unproven paranormal events. Then again, considering a character called Captain Frank was on 'Kojak,' played by Chazz Palminteri, maybe he is reliable. While the cast/production staff hinted we'll eventually see who we can trust, Tom pointed out you can't assume anything, considering John Cho died in the first episode and returned in the second.
Although the table controlled itself in the presence of Tom and Katia's British polish as well as Kurtzman and Orci's executive authority, when Nicole and Orlando sat down a flurry of questions erupted. Instead of the orderly one-to-two questions per person done in sequential order, it was a Wild West free-for-all with the entire table fighting for their attention. Whoever grabbed Nicole/Orlando's attention, held it. It was literally the first time in three years I  wasn't able to ask a question in a pressroom roundtable in New York, Toronto or Philadelphia. To watch the video of unbridled energy, click here http://youtu.be/ahOskhRyIns or see below.
Check out 'Sleepy Hollow' on Monday nights on Fox as well as Facebook, Facebook.com/SleepyHollowFOX; Twitter, @SleepyHollowFOX  / #sleepyhollow; and Instagram, @SleepyHollowFOX.