'The Sing-Off': Vocal Point After Their Exit!
NBC's The Sing-Off said goodbye to Vocal Point this week - and I caught up with group members McKay Crockett, Jake Hunsaker and Tyler Sterling to get the post-show lowdown!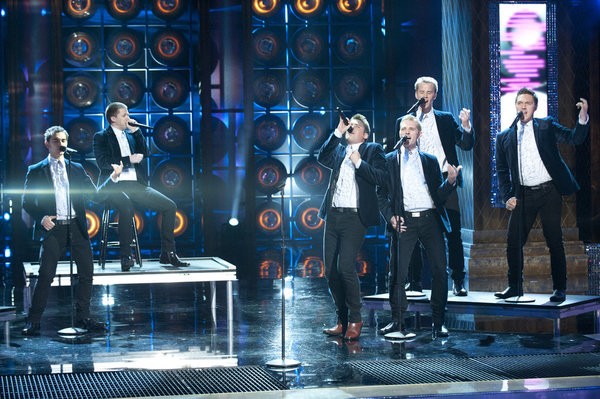 This is a big experience for any group - so what did you take away from The Sing-Off personally?
McKay: I think for me personally, one of the biggest things I took from the show is if you put your mind to something, you can achieve really great things. We have a really specific purpose, and it was just another example of if you have a purpose, amazing things can happen. Great things have happened and will continue to happen. I'm just grateful that we were able to be on the show.

Which one of your performances from the show are you the most proud of?
Jake: For one, Bobby Brown's "Every Little Step" from last Monday. We worked so hard on the choreography for that song. We worked so hard to capture the soul in that song. Another favorite of mine personally was the Elvis medley. I think that showed our personality probably the most of any of our pieces.
Which judge did you feel gave the most constructive criticism to your group?
Tyler: We learned a lot from Ben Folds. All of them are very professional but he had a good grasp on what it would take amateurs like us to become a professional group. He was always very technical in his remarks. When he talked like that, it really gives us a great understanding of how our musicality can change. He also gave really good constructive criticism, like his overall feeling of the performance. Those are always good things to hear.
What's the next step for your group, and how can fans keep up with you?
McKay: I think this is the beginning for Vocal Point. It's definitely not the end. We have a website, which is byuvocalpoint.com. We're also on Facebook and Twitter. We're going to continue to put music out. We're very grateful to share that with so many more people than we ever could have before.
How did your experiences on the show compare to your group's expectations?
Tyler: I thought it was going to be this kind of cutthroat competition. Really, I found it to be quite the opposite. Everyone on the show was extremely supportive of each other and really wanted everyone to succeed. It was hard to watch some of your really good friends go home every week. Once the competition was over, I know that all the participants on the show will continue to want that, in the performers' individual careers as well as in groups.

What are your musical recommendations?
Jake: One of my favorite artists to listen to is Michael Buble. It's just very easy listening music and it's real music. In today's world where anything that's sound can be considered music, I really have a respect for real music.
McKay: My all-time favorite group is Rascal Flatts. They're a great example of what great music and great vocalist can do for people. They've got songs that cover every aspect of love.
Tyler: Vocal Point. The Sing-Off was just a great segue. I'm really excited to see what the next 20 years holds.
My thanks to McKay, Jake and Tyler for this interview! Check out Vocal Point's website for their upcoming shows. Tune in to The Sing-Off tonight at 8 PM ET/PT on NBC to see who else is sent packing.
(c)2011 Brittany Frederick/Digital Airwaves. All rights reserved. No reproduction permitted.