'The Sing-Off': Sonos After Their Exit!
NBC's The Sing-Off said goodbye to Sonos last week - and I caught up with Chris Harrison to ask about the group's next moves!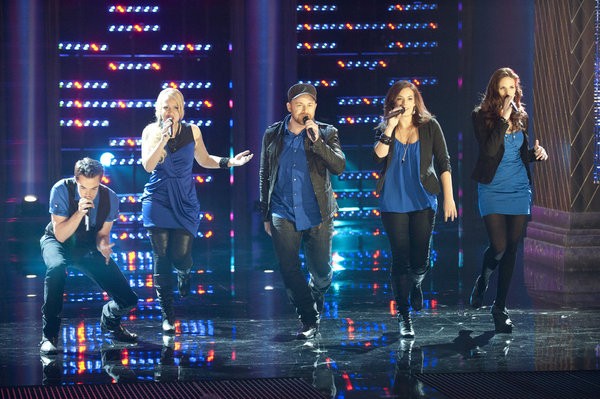 What were you expecting when you started on the show, and how did things compare to your expectations?
I will be completely honest - I did not expect us to be there terribly long, because we were performing our music in a way we weren't used to at all. Most of our songs are often lesser known, or moody and quiet. We're not using the tools that we usually use. All of a sudden we really felt the size of our group as five.
Another thing - we had not used choreography of any kind, and the choreographers on the show were amazing and very accomodating of that. I thought they kept it very tasteful. I think the gratitude has remained.
In retrospect, is there anything that you might have done differently?
I don't think so. I think we were as much ourselves as we could be without the tools we were used to and with a completely different concept. I think we stayed as true as possible to what we do in our real show. I don't think it was any surprise that it was received the way it was received. I don't think any of us could disagree with that.
Conversely, do you have a proudest moment from your time on the show?
I think probably "I Want You Back" [by The Jackson 5] because that's a song that we've been doing for almost three years. "Wicked Game" [by Chris Isaak] was quote-unquote "our signature song", but "I Want You Back" is the song we've been doing for as long as we've been touring. It's sort of a marker for us. We're proud of it and we mean it, and it was really nice getting to do what we actually do.

Who was the most nervewracking judge to face?
I think it was probably Shawn [Stockman]. Just the things that it's clear that he values in a musical performance, or an arrangement, it seemed like [they] were not the same things we focused on. Ben [Folds] would sort of point out the quirky intricacies of an arrangement. I think Shawn's priorities were more on "How are you connecting with the audience?" versus challenging the audience.
Was there another group on the show that you particularly enjoyed listening to?
I loved a lot of the groups. I'm very impressed with who's on The Sing-Off this year. There's a group called Pentatonix, who's another five-piece. Not only did we feel a kinship with them because they're another five-piece, but they're just unbelievably good. Every tune they'd get, they'd completely turn sideways and blow your mind.
What do you take away from the show personally?
I think it was a growing experience. The five of us have already been very tight. A seventeen-hour car ride to a gig - nothing will get you closer or make you want to kill each other like being trapped in a van for hours and hours.
This was interesting because it was such a different type of challenge. We'd never been in a position like this. We'd never entered ourselves in any competition, ever. And at the end of  it, none of that matters. We got to sing in front of millions and we didn't have to pay anyone to do it! I think it's definitely going to be a huge help to us.
What's next for your group? How can fans keep up with you?
We went right back to work as soon as we wrapped up our time on the show. Right now I'm in Seattle with the band. Tomorrow, we're going to Idaho, and the day after that we're headed to Athens, Georgia. We're running all around, playing as many gigs as we can, and we're working on a record of original music.
If people want to check us out, we're at the obnoxiously spelled sonosings.com.

Give a musical recommendation to our readers.
I love me some Radiohead. In the world of vocal music, check out any composition of Eric Whittaker. I love Maroon 5. They're an awesome band. And Daft Punk.
My thanks to Chris for this interview! To see who's next to go home - and of course, some more spectacular singing - don't miss tonight's episode of The Sing-Off at 8 PM ET/PT on NBC.