'The Sing-Off': Kinfolk 9 After Their Exit!
NBC's The Sing-Off sent another group home last week - and I've got their dish! Here's what Jenilee Reyes of Kinfolk 9 had to say.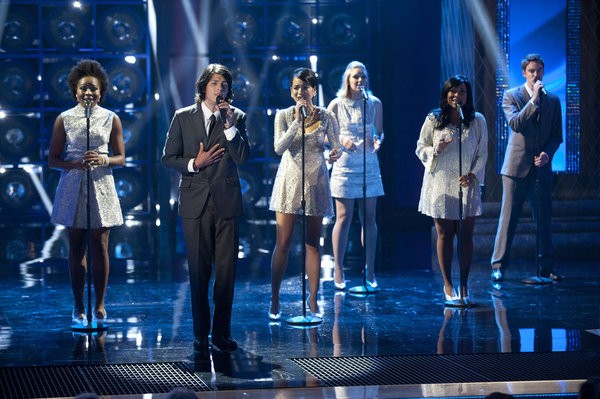 What motivated your group to compete on the show?
I think what motivated us is that we were really excited to jump into unfamiliar territory. The first time we got together, for our first rehearsal, we were just talking about, "Wow. We're so excited to learn to sing a different way." It was scary but it was exciting.
What did you expect from the series, and how did your experience compare to your expectations?
We didn't really expect to get affected the way that we did. We took it very lightly [and] there was so much more involved. We got to meet some amazing people and really dive into this world that none of us were really ever privy to before, and kind of gain a new respect for some of these groups that have been performing. We grew closer as a group and we had some incredible moments.
I guess if there's anything I could change, it would be to have had more time before diving into the competition.
Would you call that your biggest challenge?

Absolutely. That was our biggest challenge. We're all artists outside of the group. We have all had plenty of experience performing on stage, and we'd all toured before but being on the Sing-Off stage and singing for the first time, that was definitely humbling. That's a world that we had to figure out very quickly. You can't just learn that stuff overnight.

Do you have another group or groups on the show that you particularly enjoyed listening to?
Oh, my gosh. We love Afro-Blue. Afro-Blue is so tight and so much fun to watch, and [they're] such amazing people - which is something that usually doesn't go hand in hand with that caliber.
In retrospect, is there anything from your final performance that you would have done differently?
No, absolutely not. I think we worked really, really hard that week to get those performances the best that we could and we did. We left our hearts out there. We put ourselves out there, and we were very honest about who we were in the competition. We weren't going to be the best a cappella group because we were inexperienced, but I'm very proud of us.

If you'd continued on in the competition, is there a song or genre that you would have liked to perform on the show?
There were so many songs that we wish we would've been able to sing. We would've loved to have stayed for Hip-Hop Week. Guilty Pleasure Week would've been fun too.

What do you take away personally from The Sing-Off?
I learned that working together as one unit is way bigger than whatever you could accomplish on your own. Being a part of Kinfolk 9 was something that I didn't expect to be so changed by. I learned so much from each of the members of the group, and I had to learn to take my own self out of it and see the bigger picture.

What's next for you? How can fans keep up with what you're doing in the future?
We have our website, kinfolk9.com. We just put out a new video last Monday; the girls are featured in it, and we're singing Beyonce. We're going to keep putting out videos of songs we like to sing and do the songs we didn't get to do on the show.

What musical artist(s) would you recommend to our readers?
Right now, I'm really loving Adele. I love everything that she is about. It's really about her voice and her talent and that's what I appreciate. I'm a singer's singer, and I appreciate amazing vocalists who can go out there with just their voice.
My thanks to Jenilee for this interview! See who sings their swan song next as The Sing-Off is all new tonight at 8 PM ET/PT on NBC.