'The Sing-Off': From The Live Finale!
Season 3 of NBC's The Sing-Off drew to a close Monday night - and after the confetti, I talked with host Nick Lachey, judges Ben Folds and Shawn Stockman, and the top two acts! Here's what happened...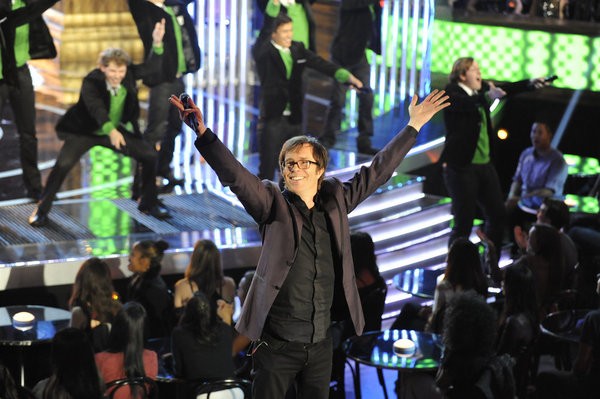 Congratulations to Pentatonix for being named season 3 champions! The Arlington, TX quintet (and favorite of Sonos) beat out the Dartmouth Aires and Urban Method to claim the title.
But there was a lot going on before the results...
The top three acts volunteered their time with charities close to their hearts. Pentatonix visited The Trevor Project, Urban Method helped out the Sickle Cell Foundation, and the Aires dropped in on Saving Strokes. In this age of egocentricity, it was so nice to see the artists giving back.
They also got the chance to collaborate with a member of the Sing-Off family. Pentatonix teamed up with Lachey to perform the 98 Degrees tune "Give Me Just One Night (Una Noche)," a rendition that Nick quipped "took me back ten years. We finally got a 98 degrees song in there, even if I had to do it myself. I was holding out for that."
He was serious about his love for the show he hosts. "Every season I've been part of this show has been special," he said. "Tonight, with so many talented groups and feeling all the talent around, I think this has to be my favorite season."
Sara Bareilles joined Urban Method for a performance of her new single "Gonna Get Over You." But the highlight of the evening was easily Folds partnering with the Aires for a take on his song "Not The Same" which was not just a collaboration - but a whole studio sing-along that saw the piano man climb onto the Sing-Off judges' desk!
Folds also had the most thoughtful words to say about The Sing-Off finale. "The show is based on a kind of music that is not competitive. By nature, it's harmonious. But this is 2011, and people like to go into the coliseum and battle it out to the end, and I'm so glad that's over," he said with a wide smile.
"It's just about watching all these people - they're not divas, they don't have big egos. The groups that were kicked off, they were crying over the groups that got kicked off tonight. It's humanity and harmony and all that stuff. The competition, if that gives us a place on the air and a means for people to hear this great music, I'll play along with it. But I don't care about the coliseum."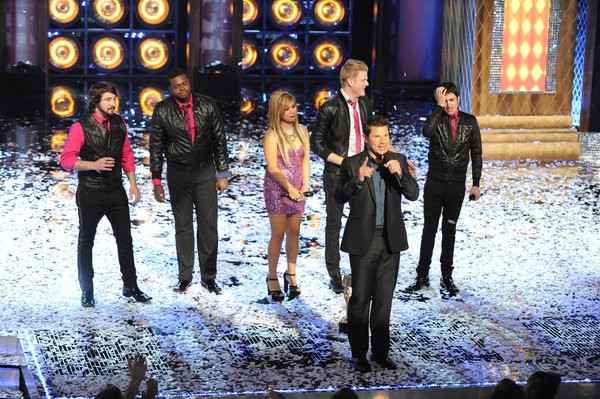 His positive sentiments were echoed by fellow judge Stockman. "It's really, really hard because I look at them in a sense where I don't want it to be 'because you didn't make it to the top, you're over,'" he said. "I try to encourage them. Before they went on stage, I tried to encourage them that whatever happens, keep doing what you're doing, because it's good."
The contestants weren't the only ones who grew this season - so did Stockman. "It gave me a chance to get better at the judging thing, because it was [an] extended [season]. I had to figure out ways to express and articulate in a better way. It helped me become more of a student of music and television," he confided. "When I thought you couldn't do anything else, someone like Pentatonix comes up with something fresh and different. We're musicians, so we get inspired."
Speaking of inspiration, the Aires were not just gracious in defeat, but singing the praises of their competition. Said Daniel Freeman: "They're such an inspiration. We would be working ourselves into the ground to make sixteen guys sound anything like music every single week. Just to watch Pentatonix come up with something new and different and exciting that got us waiting on every single note with only five people - we were able to take some of their strategies and their rehearsal process and really take it to heart."
Echoed one of his teammates: "We're so happy for them. They're our friends. We respect what they do so much. And hey, second place ain't bad."
What did the winners have to say about their journey? They had plenty of thanks of their own to give out.
"The way I connect with music is totally different," said Pentatonix' boyish Scott Hoying. "I've grown so close to these people, it's unreal. Shawn [Stockman] really inspired me. He gave me confidence, that's for sure. Ben [Folds] had so many nice things to say. He would go into detail about our arrangements. We owe a lot to him. The critiques they gave us we took to heart. I think that's the reason we won."
Concurred his teammate Kirstie Maldonado, an admirer of Sara Bareilles: "We all look up to them a lot. It was incredible and crazy to be getting feedback from people you look up to."
What's the first thing they were going to do post-victory?
"Going to In 'N' Out Burger. We're hungry," said Kevin Olusola with a laugh. The idea didn't meet with much love from his teammates, so he hastily corrected, "I'm going to go, they don't have to go with me."
He's certainly earned a celebratory cheeseburger - and a whole lot more, including $200,000 and a new Sony recording contract.
Congratulations to Pentatonix on their victory, as The Sing-Off signs off for season three.