'The Sing-Off': Afro-Blue After Their Exit!
It's down to the wire on NBC's The Sing-Off. Before tonight's live finale, I chatted with Danielle Withers from the much beloved Afro-Blue.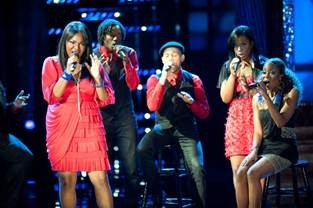 The jazz ensemble from Howard University tackled a mash-up of R. Kelly's "I Believe I Can Fly" combined with "Fly" by Nicki Minaj with Rihanna, and then the judges handed them the Sam Cooke classic "A Change Is Gonna Come." They battled it out with the Dartmouth Aires for the final spot in tonight's finale, but ultimately came up short.
That didn't stop them from leaving an impression on the audience or even their fellow contestants - you'll recall that Jenilee Reyes said Kinfolk 9 were fans of Afro-Blue.
Here's what Danielle had to say about Afro-Blue's experience on The Sing-Off.
Monday night, we saw you have to launch right into your "do or die encore." What was it like to be so on the spot?

You don't really have a lot of time to think about it, so you just jump right in. It was like, "'American Boy'? Okay."
Is there anything in the run of the show that you might have done differently in retrospect?
No, you know, I think we did our best and that's really all that you can do. I'm very pleased with everything that we did.

What did your group take away from the show personally, outside of the competition?
It was amazing. We loved every second. We learned so much about each other as musicians and singers. We learned so much about the group. We grew a lot.
We are forever grateful for the opportunity. We're a jazz group, a class at Howard University, for us to be able to share what we love on national television in a primetime slot, it was amazing and humbling.

Which judge would you say you learned the most from?
We learned a lot from all three. Music is so universal; you never know what someone's going to like or how people feel about different things. All three had given us feedback that we took with us throughout the season and definitely will take with us for the rest of our lives.

Is there a song you would've loved to perform on the show?
It would've been really cool to do an Earth, Wind and Fire medley. We talked about that.

What comes next for your group and how can fans keep up with you?
Fans can keep up with us on Twitter. We also have a Facebook page.
The show definitely opened so many great doors to us we didn't know were there. We went into this not knowing what to expect. We're really excited to see what opportunities come our way and we're open to any and all of them.
Is there a group on the show that you particularly enjoyed listening to from a fan's standpoint?
I really, really loved Vocal Point. I have a special place in my heart for Vocal Point. But we loved all the groups. All the groups are amazing in their own right, in their own way and very deserving.

What music would you recommend to our readers?
I love every genre of music. Of course, jazz. Jazz is amazing. I am a huge, huge Ella Fitzgerald fan, so anything of hers I'd recommend. John Mayer's Room for Squares album. Michael Jackson's Off The Wall album.
My thanks to Danielle for this interview! The Sing-Off crowns another winner tonight (8 PM ET/PT on NBC). Stay tuned for my coverage from the finale!
(c)2011 Brittany Frederick/Digital Airwaves. All rights reserved. No reproduction permitted.