'The Simpsons' Nab Steve Carell, Zooey Deschanel, Others For Voice Roles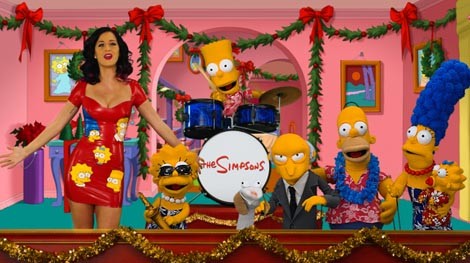 The Simpsons are no stranger to having guest stars on their series - you could argue they are the Saturday Night Live of animation. For the unprecedented 24th season, Springfield will once again have the who's who of Hollywood in their midsts.
Bart Simpson will be chasing after a long-lost love voiced by Zooey Deschanel when the family heads to New York once more. Steve Carell will be a bowling buddy of Homer's that apparently has ties to the mob. Patton Oswal will be a neighborhood child that befriends Bart. Other guests for the season include Jeff Gordon, Fred Armisen, Carrie Brownstein, and Jennifer Tilly.
The Simpsons aren't the only FOX animated show with big stars showing up. Bryan Cranston, Nicki Minaj, Nick Offerman, Kanye West, and will.i.am are all slated to appear on The Cleveland Show.
Zach Galifianakis, Megan Mullally, Kevin Kline and Aziz Ansari are among the guests for the upcoming season of Bob's Burgers.
Johnny Depp, Ryan Reynolds, and Elizabeth Banks headline the guest list for Family Guy.
Finally, American Dad boasts Charlie Day, Nathan Fillion, Sarah Michelle Gellar and Jon Hamm.