The Show Must Go On: Jimmy Fallon And David Letterman Still Air Shows Despite Hurricane Sandy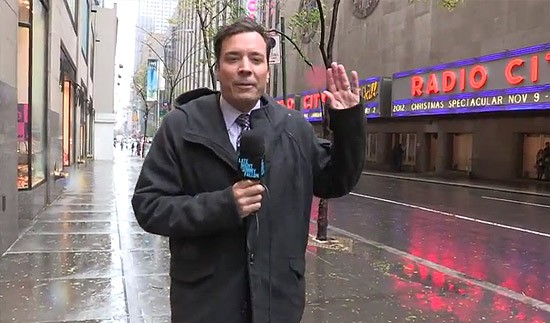 Late night talk show hosts Jimmy Fallon and David Letterman weren't going to let a little thing like Hurricane Sandy get in their way Monday evening, as both hosts aired their shows with skeleton crews and without studio audiences.

Like the United States Postal Service the two comedians refused to let weather stop them and they provided the much needed comic relief from the superstorm -- for those who still had power, that is.

Fallon began his show by stepping outside his Rockefeller Center studio in Manhattan to show the nearly empty streets and explain that the show would go on despite having no one in the studio other than stagehands, cameramen, his house band and his guests, which included Saturday Night Live's Seth Meyers, Top Chef host Padma Lakshmi, and filmmaker Robert Zemeckis.

"All of our guests came, which is big for us," he said. "...We were worried that we weren't going to get guests, but we got some good ones here."

"There's no audience tonight, so you are the audience, so imagine the laughter, imagine the fun, imagine the excitement."

Fallon began his show with a shot of his empty studio, telling the empty seats to "please keep it down."

The host began his monologue with cracks about the hurricane and about much-hyped new movie Cloud Atlas, which didn't fare well at the weekend box office. The host said it potentially didn't do well because of storm preparations and because "no one knows what the hell a Cloud Atlas is."

Letterman's show went on as well, with guest Denzel Washington on hand to promote his new movie, Flight (Fallon guest Zemeckis directed the film).

The host began with a few jokes about the horrible weather; saying things like "I haven't seen people soaked this badly since the Facebook IPO" and "Across the street at [strip club] FlashDancers, the strippers are lashed to the pole."

The host's nightly "Top 10" list also focused on the superstorm, originally dubbed Frankenstorm because of its makeup and proximity to Halloween: "Top Ten Rejected Names For 'Frankenstorm.'"

But while Fallon and Letterman weren't going to let the storm shut them down, several other New York City based shows did stop production; including Jimmy Kimmel Live, which is normally filmed in Los Angeles but just happened to be taping in NYC this week.

"Due to stupid Hurricane Sandy and in the interest of the safety of our studio audience, Jimmy Kimmel Live! will not broadcast tonight from the Harvey theater at Brooklyn Academy of Music," Kimmel said in a statement.

Comedy Central's fake news shows The Colbert Report and The Daily Show also closed shop for the night; and several TV series that film in the city also put production on hold.

30 Rock, The Good Wife, Person of Interest, Nurse Jackie, Smash, Law & Order: Special Victims Unit, 666 Park Avenue, Elementary, Gossip Girl and The Celebrity Apprentice all shut down for the day.

Check out Jimmy Fallon's opening monologue and Letterman's "Top 10" list below...