The Sexiest Models In The World Hit The Runway In The 2013 Victoria's Secret Fashion Show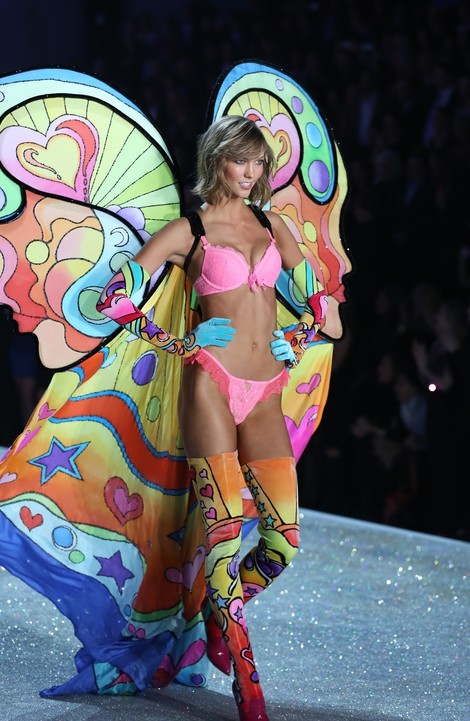 It's that time of year once again and it just wouldn't be a proper holiday season without some Angels. No, we're not talking about Christmas -- we're talking about the annual Victoria's Secret Fashion Show.

Karlie Kloss (left), Alessandra Ambrosio, Candice Swanepoel, Adriana Lima, Behati Prinsloo, Doutzen Kroes and Lily Aldridge are set to hit the catwalk Tuesday night for the annual event, airing on CBS at 10 PM eastern.

This year's show features performances from Taylor Swift and Fall Out Boy, along with A Great Big World and Neon Jungle.

The show isn't just about flashing lots of flesh on the runway while showing off all the latest sexy lingerie & fashions, viewers will be treated to model profiles and some behind the scenes footage and interviews as well.

"The Victoria's Secret Fashion Show is a one-of-a-kind, glamorous kick-off to the holiday season," said VS president and CEO Sharen Jester Turney in a press release. "I'm excited to share our brand with millions of customers around the world through this iconic event featuring our Angel supermodels, dazzling lingerie designs and superstar entertainers. And it makes me incredibly proud that we use this display of our brand to raise nearly $1 million for charity."

This year's show features Angel Candice Swanepoel wearing the one-of-a-kind Royal Fantasy Bra -- something no one in their right mind would ever wear with a price tag of $10 million.

The show was actually taped a month ago, presumably to give producers a little time to edit out any impromptu wardrobe malfunctions.

Check out the trailer and more pics from the hot event below, and don't forget to tune in to CBS tonight at 10!.


Check out a sampling of all the models that will be in the show below. See tons of hot pics right here!