'The Sessions' A Moving True Story With Oscar Worthy Performances by Helen Hunt & John Hawkes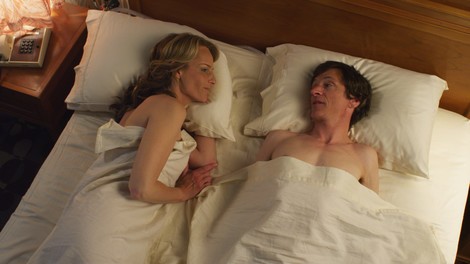 Every so often a film comes along that lifts your spirits and makes you feel that anything and everything is possible.
'The Sessions' starring John Hawkes and Helen Hunt is just such a film.
This is the true story of a man named Mark O'Brien, who lived in Berkeley CA in the 1980's.
Mark is different from most people. He contacted polio as a child and is confined to an Iron Lung. The only part of his body that isn't paralyzed is his head, which he can move slightly to the side. He is also dependent on a breathing tube and a caregiver.

But this isn't the tale of a disabled dude that lies around feeling sorry for himself.

On the contrary, Mark is a man who defeated the odds and not only graduated college, but went on to become a journalist and a poet.

The story begins in 1988 and as soon as you meet Mark, you can't help but like him. He's an intelligent, insightful guy, with a killer sense of humor....Oh, and at the age of 38, he's still a virgin. And Mark wants to do something about that.

You see even though Mark's body is frail but his penis works just fine.

Mark, a devout catholic, confesses to his priest (the wonderful William Macy) that he wants to know a woman in the biblical way and asks him if this is wrong. After giving it some thought, the Father says GO FOR IT.

So with the Priest's blessing, Mark sets out to lose his virginity. He finds a sex surrogate, Cheryl (Helen Hunt) who has sexual intercourse with her clients and Mark's life will never be the same.

There are many reasons why I loved this film, but the two main ones are...John Hawkes and Helen Hunt, who are absolutely amazing. Come Oscar time, they will be on everyone's list.

'The Sessions' written and directed by Ben Lewin is a film that will touch your heart. It will make you laugh, cry and definitely...inspire you. It's one of those movies that stay with you way after the credits roll and the lights come on.

And it's a film that John and I actually agreed on. That's right. We both gave it 4 1/2 bagels out of 5.
Check out our video to find out what else we thought about 'The Sessions' which opens in theatres Friday, October 19th, 2012.
Please
SUBSCRIBE
to our channel on
YouTube
and
LIKE
us on our Two Jews on Film Facebook page. Thanks everyone.