'The Secret Circle' Recap: Sacrifice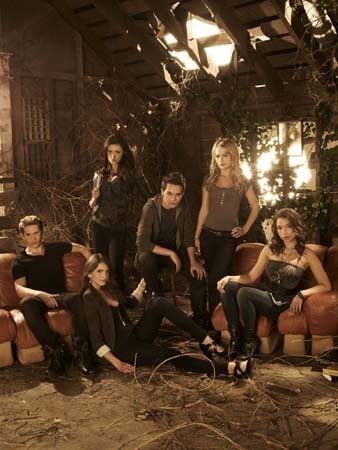 Last week Blackwell evilly meddled in Cassie and Adam's romance, but in this week's episode he becomes the hero when Eben plans to resurrect demons. Here are the top five events you need to know from this week's 'Secret Circle' including: flirting mania, lurking demons and a new plan of action!
Master Witch-hunter Turned Demon Resurrector:
Jake and one of his old witch-hunter pals, Samuel, are locked in a fist fight and Cassie, being the dark blooded witch that she is, breaks the two up. It turns out that Eben is going to be resurrecting demons, a la the ones that caused Nick's death a few months back, in order to acquire their power. Who you gonna call when demons are on the uprising? Blackwell of course! Deceiving daddy gives Samuel a good battering until he admits that Eben will be sacrificing a mere mortal (that mortal being Samuel) to get the demons he wants. He also cares to add that Blackwell attempted the same demon resurrection sixteen years ago, and of course Cassie overhears this. Don't threat though, Blackwell admits that he didn't kill a human in the process and that Amelia trapped the demons before they could cause any damage (Heather anyone?). He commands Jake and Cassie to gather up the circle and meet at the abandoned house for a Stop Eben and His Devilish Plan meeting.
Aussie Boy Back From His Voyage:
Just when we thought the Adam, Diana and Cassie love triangle had reached its end, there seems to be more problems on the horizons as Adam is developing a crush on his old flame, Diana. However, she is oblivious to Adam's rekindled passion for her and instead goes waltzing off ice-skating with returning Aussie, Grant.  Diana is extremely graceful on the ice compared to the stumbling Grant, but that doesn't bother the love-struck teens as they share a quick kiss. Once their date is over, Diana is unable to stay away from her new love and surprises him at his boat. However, it turns out someone has been telling porkies! Grant doesn't own a boat after all; he has been working on one for the past year. Diana is in the least bit happy with him blatantly lying to her and it seems their relationship has hit the rocks. Luckily Grant is not ready to call it quits on the witch just yet and he awaits her arrival on her doorstep (has Grant been Facebook stalking for Diana's address?). Grant is successful in persuading Diana to give him one more chance. Thank God! Please Lords, don't be sending another hot guy to the 'Secret Circle' demolish bin!
Witchy Warfare:
Love is clearly not a strong point for anyone in the Circle at the moment, unless you are Diana, of course, and Faye and Melissa are feeling sorry for themselves having to help with the party for the school hockey team at The Boathouse. The pair decide they want normal boyfriends (with no witchy or voodoo magic) and it seems hockey champ, Kyle, fits the bill perfectly. The two competitively flirt all out with Kyle with the help of Adam (who seems shockingly un-Adamish since last week's de-love potion). But, it turns out that their efforts were a waste of time as Kyle already has a girlfriend. Adam punches Kyle for his dishonesty (go Adam!) and Melissa and Faye lead him down to the truth telling basement as they can to tell that Adam is not being his usual sympathetic self. Adam confesses that he feels as though he is missing something but he doesn't know what it is. The three have a heart to heart about the pains of broken relationships (at least the two people Adam has dated aren't dead) and as if on cue Adam receives a call from his latest ex, Cassie.
Sacrifice:
The Circle are twiddling their thumbs at the abandoned house awaiting Blackwell and Samuel's arrival. It takes them some time to work out that they have been stood up by Cassie's dad! Blackwell doesn't want the Circle to get hurt so he leads Samuel to the Harbor Woods where the resurrection is to take place. Unfortunately Samuel has a demon crawling under his skin so Blackwell draws a circle around the infected mortal so he won't be able to hurt him. However, Eben appears to resurrect the demons and he is clearly not going to let Blackwell get in his way so he knocks him out cold!
The Circle gang appear just in the nick of time to find Eben disturbingly slicing his own palm. Jake goes to help Samuel out, not realizing that his old pal has a demon roaming around inside him, and he accidently breaks the spell which is keeping Samuel contained. Cassie steps forward and sends Samuel ablaze, but this doesn't stop him and he begins to chock her. Luckily, Blackwell is up and at 'em and he causes Samuel to explode! Stopping Samuel means Blackwell has given away one of his biggest secrets to the group: he still possesses magic! Eben gets what he wished for though as the demon worm's slither through his body and he goes running off. The Circle are going to stop him, but Blackwell tells them to let him off scot free, for now.
Blackwell's speech:
Back at the abandoned house Blackwell, who seems to have taken up the role as leader of the Circle, gives his team a new cunning plan to work with. This is sure to send Dawn's blood boiling as Blackwell wants the Circle to go hunting for their parents six crystals. Supposedly there is no greater magic than that of the crystals combined and thus, if they can catch them all (much like Ash and his Pokémon's) then they can spend the rest of their lives relaxing on a ship (Grant's, to be precise) as the witch-hunters will be unable to hurt them. This motivates the group in believing they can beat Eben and his demon pals. It seems Blackwell is hiding even more secret however as the final moments of the episode shows him digging up a grave. Did he make that sacrifice all those years ago?