The Second Chapter of Brian Lawrence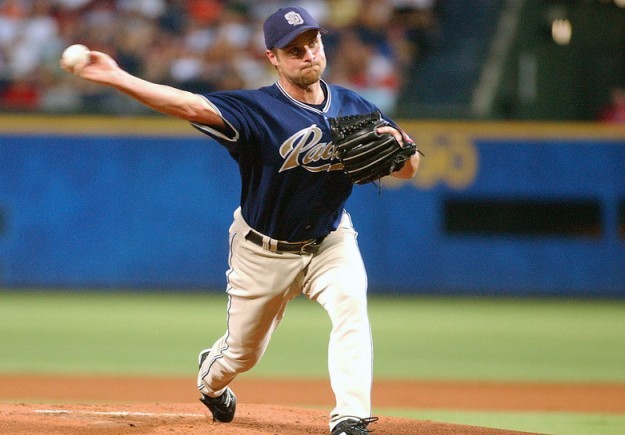 When Brian Lawrence was a starting pitcher for the San Diego Padres, he wasn't a household name. Yet he was a hero in his own way.
The right-hander from Colorado was a seventeenth round draft pick for the Padres in 1998, and reached the majors in 2001. Over five seasons in San Diego, he compiled a win-loss record of 49-61. He didn't earn any hardware or even a lot of accolades. But as many a baseball fan will tell you, it's not just the statistics that define an athlete's career.
Brian was once one of the three young guns of the San Diego pitching staff. They graced the cover of Padres Magazine one year. There was Jake Peavy, the phenom who'd go on to win prestigious Cy Young Award in 2007. On the other side was the more unpredictable Adam Eaton, who when he was good not only nearly delivered the organization's first no-hitter, but could also swing the bat, too. Between the two extremes was Brian: the pitcher who could always be counted on to give the Friars a fighting chance.
It was that consistency that endeared him to Padres fans. No matter what else happened, if the name Brian Lawrence was in the ninth spot on the lineup, we knew that we were going to see something worth watching. In the unpredictable game of baseball, there was something special about the pitcher we could always count on.
Now Brian Lawrence is a Padre again, of sorts. Two years after his retirement from Major League Baseball, he's rejoined the Padres organization as the pitching coach for the team's Single-A minor league affiliate, the Lake Elsinore Storm. It's time for him to pass on lessons learned and instill some of the qualities that made him remarkable.
"I'm still trying to figure it out, I think," he said of making the transition to this next phase of his baseball career. "I'm kind of here learning how to do this as [the players] are learning how to pitch. I definitely know how to pitch - now I've got to learn how to verbalize it to them. See what they need to work on and be able to relate that to them and get them to improve on that. And [then] deal with fourteen different personalities on the pitching staff. I'm kind of using this year to learn myself."
Call it the re-education of Brian Lawrence. As he's teaching the Storm pitchers, so, too, is he a student of coaching. Just like when he was a player, he still strives to learn from those around him, except now he's studying an entirely different aspect of the game. "Spring training was helpful, because we had all the coaches there and I was able to talk to them all and kind of see how they did things," added Brian, whose learning curve began last year after Padres exec Randy Smith suggested he consider a coaching job in the independent Frontier League. "I did that last summer, realized I liked it and wanted to move forward," he explained.