The Scorpions Get Ready For Their Last Tour… Ever (Audio)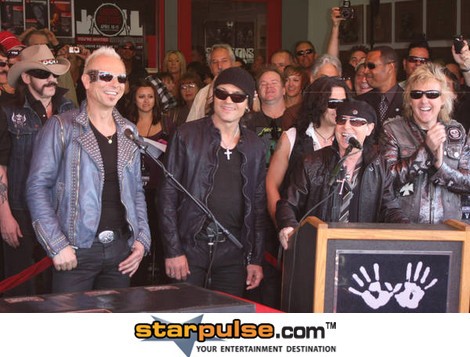 Having rocked arenas in four different decades, influenced countless other hard rock bands, and become perhaps Germany's biggest rock band of all time, The Scorpions are embarking on their final tour.  Ever. 
Starpulse.com's Matthew J. Swanson had the pleasure of talking with guitar legend Matthias Jabs about his start with the band, some of his most memorable moments in The Scorps, and his thoughts about hitting the stage one last time.
We had to make sure he was saying his name right, because if you read in the English language, it's pronounced nothing like how it's spelled.  He then discussed how the band came to the decision to make this the final tour.  They want to go out on top, and they want to grow old as retirees, as opposed to growing old on the stage.
Listen to Audio Clip


Matthias talked about how the time is right for this tour since heavy music is more popular than it had been in years, and he goes on to say his feelings associated with letting go of the Scorpions – and what it might be like when they film the DVD for the final show. 
Matthias told us how it's even more important for a hard rock band to go out on top as opposed to other genres, since rocking hard into the 60s becomes less-and-less cool, and the difference between B.B. King playing blues sitting on a stool, which is okay, and old guys cramming into leather pants and running around arenas, which is not as cool.  He also cleverly pointed out how KISS and ZZ Top can pull off aging on stage behind their beards and makeup, respectively.  He said KISS was guilty of more than one farewell tour – something The Scorpions vow not to do; when they say this is the last tour, they mean it.
Listen to Audio Clip


The albums of the late 1970s and early 1980s are generally considered to be The Scorpions finest work and the fan favorites, and this is why the band has decided to play songs along the same lines of their hey-day.  Their latest album, Sting in the Tail, shot to number one in the charts in Germany, and while they have had number one albums before, they have never jumped right to number one like that.  The band has been pleased with the reaction that the new songs are getting live – almost as if fans have known these songs for years like their classics.
Listen to Audio Clip


Jabs talked about the bands he was in before joining The Scorps (one of which has a very heavy name: Death Lock), his audition for The Scorpions, and the band's rapid rise to major success shortly after he became a member.  He proudly talked about how the band worked very hard on their records and their relentless touring as a support band, and he said that some bands would get mad at them for upstaging the headliners, including an angry Ted Nugent, who, luckily for The Scorps, wasn't armed at the time.
Listen to Audio Clip


Matthias Jabs has been in the band for around 32 years, but before then the band went through a number of lineup changes, including founding and current member Rudolph Schenker's brother, guitar virtuoso Michael Schenker, famous for his work with another influential heavy band, UFO.  In fact, Michael came back into The Scorpions after Matthias was in the band, but according to Matthias, Michael was not a team player, so it didn't work out.  Despite some bad blood, don't rule out Michael Schenker making a guest appearance, or some other superstars for that matter because they have set lists ready to plug in guest players!
Listen to Audio Clip


Matthias told us about the whistling classic ballad, Winds of Change, what it was written about, and what it meant to him and the band to have their song be the soundtrack to the end of the Berlin Wall, the reunification of their home country.  He also told us how hearing Jimi Hendrix playing All Along the Watchtower on the radio made him cry as a 12-year-old boy in Germany.  In fact, he pays tribute to Jimi on the final Scorpions album by playing a riff from the song that inspired him so long ago.
Listen to Audio Clip


Still Loving You is a fan favorite, and Matthias said that the song created a baby boom in France in the mid 1980s.  In other words, the song was so good that it made French people get it on!  One couple that the band met named their daughter Sly for the first letters in each word of the song, which led lead singer Klaus Meine to write a song called Sly on the final record.
Listen to Audio Clip


The band's suggestive album covers from late 1970s and early 1980s were extremely controversial, such as the Virgin Killer cover with the extremely young looking girl. Matthias would actually meet her years later and was glad to see that she turned out okay.  Despite that record being made before his time in the band, Matthias pointed out that it was a record company man and not anyone in the band who thought they should use that cover, even if it meant someone would go to jail! 
Listen to Audio Clip


We hoped you enjoyed this journey into rock and roll past and part of the documentation of an end of an era, and everyone, be sure to catch Matthias Jabs and the rest of The Scorpions on this, their final tour, because it is your last chance to truly get rocked like a hurricane by one of the greatest hard rock bands of all time.
Matthew J. Swanson is a playwright, columnist, and a self-proclaimed expert on "lots of useless crappola," currently residing in Chicago, Illinois. You can contact him at thegancer@yahoo.com or check out his (almost) daily posts at www.thegancer.blogspot.com.