The Scorpions Consider World Cup Show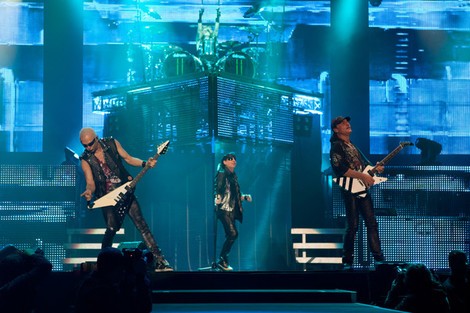 German rockers Scorpions are considering a comeback concert at soccer's World Cup finals in Brazil in 2014 - six months before they wrap up their farewell tour.

The Wind of Change hitmakers will wrap up their lengthy farewell in Germany in December, but guitarist Matthias Jabs has assured fans that he and his bandmates could well be back onstage within 18 months.

He says, "We were approached to play for the opening of the World Cup Championships in 2014. That is not confirmed, but those opportunities, we would not let slip away."

And Jabs tells the Arizona Republic there could be more shows to come after the end of the farewell tour.

He explains, "Nobody has said we'll never hit the stage again, for one show somewhere in the world. Why not? If somebody wants to see us desperately, yes, OK, here we are.

"There's also the chance that we would get terribly bored just sitting around at home, and we would call each other and go, 'Let's play a few shows.' But the intense touring, the way we've been doing it for decades now, it had to come to an end.

"We're scheduled until December 15th this year. That's the last show. It's somewhere in a small town in Germany. After that, we don't know."

And Jabs insists the band will not be splitting up - because there's too much unfinished business in the studio.

He adds, "We have a project which we will probably release next year. We have so much film material. We will work on something like an anthology, some kind of box set."