'The Scorpion King 2: Rise Of A Warrior' Arrives on DVD and Blu-ray Aug. 19

Experience pulse-pounding action and see how the
Scorpion King
legend was born when the highly-anticipated prequel
The Scorpion King 2: Rise Of A Warrior
comes to DVD and Blu-ray Hi-Def on August 19 from Universal Studios Home Entertainment. An adrenaline-fueled adventure of epic proportions,
The Scorpion King 2: Rise of a Warrior
takes viewers back to the beginning of the saga of Mathayus, the young warrior who would become the fearsome
Scorpion King
. Directed by Russell Mulcahy (
Resident Evil: Extinction
,
Highlander
), the film stars world-renowned, five-time Ultimate Fighting Championship winner
Randy Couture
.
"By far Universal's most ambitious DVD OriginalTM to date,
The Scorpion King 2: Rise of a Warrior
raises the made-for-DVD bar to the next level with production values that deliver theatrical-style action, adventure and excitement," said Craig Kornblau, President of Universal Studios Home Entertainment and Universal Pictures Digital Platforms. "Our strong track record in this arena has encouraged us to pursue this market even more aggressively as of late. With
The Mummy
continuing to successfully build on its global popularity and appeal at the box office, we saw a unique opportunity to offer home entertainment consumers a new, engaging experience that embraces the iconic elements they love about this franchise."
The Scorpion King 2: Rise of a Warrior
is the latest in a series of top-selling Universal DVD Original® releases that includes
American Pie Presents: Beta House
and
Bring It On: In It to Win It
. Both the DVD and Blu-ray are packed with behind-the-scenes interviews, exciting deleted scenes and outtakes, and astonishing
Scorpion King
secrets.
In addition to Couture, the cast of
The Scorpion King 2: Rise of a Warrior
features Michael Copon (
Bring It On: In It to Win It
), Karen David (
Batman Begins
) and Natalie Becker (
The World Unseen
).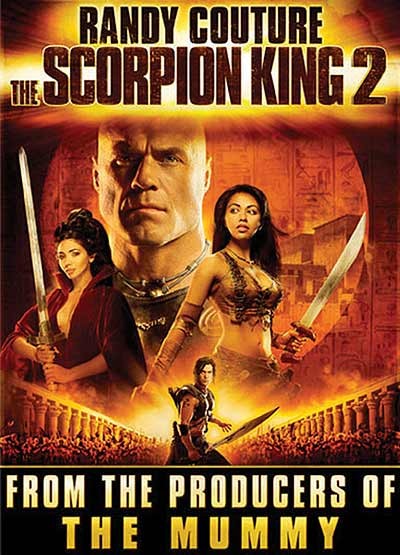 DVD Bonus Features:
-The Making Of
The Scorpion King 2: Rise of a Warrior
: An inside look at the making of the film, featuring interviews with director Russell Mulcahy and actors Randy Couture, Michael Copon, Karen David, Natalie Becker, and other key members of the cast and crew.
-Fight Like An Akkadian: Black Scorpion Training Camp: Stunt fight coordinator "Mo" Marais takes us through the intricacies of Black Scorpion warrior training and demonstrates some of the moves he used to create the true Akkadian-fighting style.
-Becoming Sargon: One-On-One With Randy Couture: Highly-celebrated Mixed Martial Arts legend Randy Couture discusses how he prepared for the role of the villainous King Sargon.
-On Set With The Beautiful Leading Ladies: Natalie Becker and Karen David discuss the physical demands of their roles and what it was like working with the guys as we watch them learning the choreography of their fight sequences.
-Creating A Whole New World: This piece explores both the specially constructed sets that bring the film to life and the amazing South African locations that give the film its authenticity.
-The Visual Effects Of
The Scorpion King 2: Rise of a Warrior
: Through interviews with both the design and visual effects teams, supplemented with b-roll and pre-visualizations, we discover how movie magic created an alternate reality for the actors to play in (such as the Labyrinth and Thorn Forest) and produced exciting sequences like Sargon's transformation into an invisible scorpion.
-Deleted Scenes
-Gag Reel
Blu-ray Hi-Def Bonus Features:
In addition to the perfect picture and purest digital sound available, the Blu-ray version includes:
• INTERACTIVE TIMELINE BAR: Track where you are while watching the film without interrupting your viewing experience
• My Scenes Bookmarks And Clips: Bookmark your favorite scenes while watching the movie
• Screensaver Features: Protect your television screen from image burn-in with this feature
See how the legend of The
Scorpion King
began! When a young Mathayus witnesses his father's death at the hands of the king (UFC Champion Randy Couture), his quest for vengeance transforms him into the most feared warrior of the ancient world. From the producers of The Mummy and the director of Resident Evil: Extinction and Highlander comes a heroic adventure filled with heart-stopping action and thrilling visual effects!
Universal Studios Home Entertainment is a unit of Universal Pictures, a division of Universal Studios (www.universalstudios.com). Universal Studios is a part of NBC Universal, one of the world's leading media and entertainment companies in the development, production, and marketing of entertainment, news, and information to a global audience. Formed in May 2004 through the combining of NBC and Vivendi Universal Entertainment, NBC Universal owns and operates a valuable portfolio of news and entertainment networks, a premier motion picture company, significant television production operations, a leading television stations group, and world-renowned theme parks. NBC Universal is 80%-owned by General Electric, with 20% owned by Vivendi.