'The Sarah Silverman Program' Season 2: Vol. 1 Hits DVD Oct. 14; Win It
'The Sarah Silverman Program Season Two: Volume One (Uncensored)' Comes To DVD Oct. 14

It's Sarah Silverman's world and we're all just spectators. Follow Sarah and the rest of the gang as she becomes romantically involved with God and decides to become "black" for a day to prove it's harder to be Jewish, deports her cleaning lady, joins a radical anti-abortion group and licks her dog's anus. Spend a few hours in Sarah's world where viewers come for the brilliant writing and performances, but you stay for the farts. Time magazine hails the show, "As filthy and sweet as an X-rated lollipop." Released via Comedy Central Home Entertainment and Paramount Home Entertainment, "The Sarah Silverman Program Season Two: Volume One (Uncensored)" DVD arrives in stores nationwide on Tuesday, October 14 and will also be available at http://shop.comedycentral.com.

The Sarah Silverman Program Season Two: Volume One (Uncensored) DVD is a completely uncensored two disc-set featuring over one-hour of bonus material including the cast and creators at 2007's Comic-Con, digital shorts, "Cookie Party," behind-the-scenes and audio commentary with the creators and the entire cast.

The Sarah Silverman Program stars Silverman portraying a character (aptly named Sarah Silverman) whose absurd daily life is told through narrative and an occasional song. In each episode, Sarah falls into unique, unsettling and always hilarious predicaments, with her sister Laura (played by real-life sister Laura Silverman), her nerdy gay neighbors, Brian and Steve (Brian Posehn and Steve Agee) and dim-witted Officer Jay (Jay Johnston) never far from her side.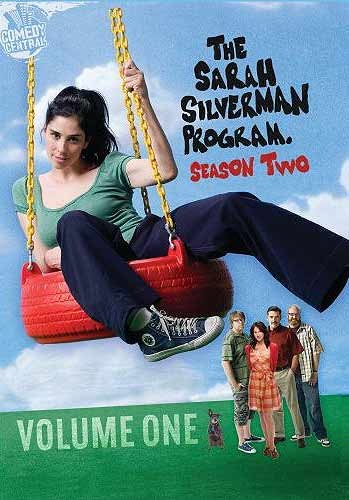 Sarah Silverman is a three-time Emmy® Award-nominee and recently received her first Emmy for the wildly popular "I'm F*&%ing
Matt Damon
" video. Silverman made an impressive splash when the feature-length film version of her stage show,
Jesus is Magic
, was met with critical acclaim upon its release in 2005. Silverman garnered rave reviews in the documentary feature
The Aristocrats
, in which she co-starred along with 100 of the industry's most prominent comedians. She also starred opposite
Jack Black
, Mike White and
Joan Cusack
in Paramount Picture's "
School of Rock
," among others. Silverman recently wrapped filming the independent feature "Saint John of Las Vegas" opposite
Steve Buscemi
and
Peter Dinklage
.
Laura Silverman is best known for her role in HBO's series,
The Comeback
. She also appeared in her sister's film, "Jesus is Magic" and is the voice of Dr. Katz' assistant in
Dr. Katz, Professional Therapist
. Brian Posehn is best known for his role in
Just Shoot Me
as well as appearances in
Seinfeld
,
Newsradio
, and
Everybody Loves Raymond
. Steve Agee's credits include "Jesus is Magic" and
Bobcat Goldthwait
's film,
Sleeping Dogs Lie
. Jay Johnston can be seen in the film
Anchorman
and appeared in the HBO television series,
Curb Your Enthusiasm
,
Mr. Show
and the FOX television series,
Malcolm in the Middle
.
The series is based on an idea by Silverman, Dan Harmon and Rob Schrab (Oscar-nominated
Monster House
). Silverman, Schrab, Heidi Herzon ("Jesus is Magic") and Dan Sterling (
The Daily Show
) are the executive producers. Schrab and Sterling also serve as director of some of the episodes. Gary Mann is the executive in charge of production for Comedy Central.
-
Win a copy of "The Sarah Silverman Program Season Two: Volume One (Uncensored)" on DVD!
Click the pics for gallery & larger images