'The Royal Tennenbaums' Star Kumar Pallana Dies At Age 94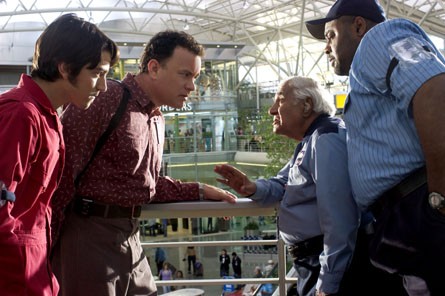 Actor Kumar Pallana, known for Wes Anderson films such as "The Royal Tenebaums" and "Rushmore," has died at 94. The news was announced on his son's Facebook page on Thursday, Oct. 10, according to Entertainment Weekly.

Dipak Pallana posted: "Dear Papa, you will be missed. Kumar Pallana 12/23/18 - 10/10/2013."

Pallana also starred in films such as "Viva Zapata," "The Terminal" (pictured above) "Duplex" and "10 Items of Less."

On Thursday, Pallan's former co-star Owen Wilson, who appeared with him in "The Royal Tenenbaums," "The Darjeeling Limited," "Rushmore" and "Bottle Rocket," paid tribute to the actor during an appearance on "Jimmy Kimmel Live!"

Wilson called him a "great guy" who "had a great life and was performing right to the very end and we're gonna miss him a lot."
Pallana grew up in British-occupied India and moved to the United States in 1946. He had a variety act and performed magic, rope tricks and plate-spinning on classic television shows as "The Ed Sullivan Show", "The Mickey Mouse Show" and "Captain Kangaroo". His billed his act as "Kumar of India" and also toured nightclubs all over the world, including Las Vegas, Paris and Beirut.
Pallana got his start in film in "Bottle Rocket", which became an independent classic. In Anderson's next movie, "Rushmore" (1998), Pallana played Mr. LittleJeans, the overexcited and mysterious school groundskeeper. In "The Royal Tenenbaums" (2001), Pallana played Pagoda, butler to the eccentric and dysfunctional Tenenbaum family.