The Royal Scots Dragoon Guards To Release 'Spirit Of The Glen'; Tour

The
Royal Scots Dragoon Guards
is Scotland's senior regiment and her only regular cavalry. The band members, as well as being trained musicians, are all Army soldiers who crew tanks.
The album, both Scots and classical tunes, is a tribute to the dedication and talent of this group of military pipers. While they are first and foremost soldiers, the music on
Spirit of the Glen
is a heart-warming and beautiful demonstration of the incredibly powerful and emotive sound of bagpipe music.
Some album highlights: the
McCartney
popularized #1 single: 'Mull of Kintire,' 'Amazing Grace 2007': a #1 hit more than 35 years ago, a reworking of
Rod Stewart
's 'Sailing,' plus film themes
Dances with Wolves
&
The Last of the Mohicans
.
The Royal Scots Dragoon Guards have embarked on a 61 date US tour in support of
Spirit of the Glen
, available in stores and online February 12.
Blending the commitment as a soldier and beauty of a musician, the Royal Scots Dragoon Guards have served in wars from the 18th century to modern day Iraq. With one arm holding a rifle and in the other a bagpipe, this brave and talented group grace our land with a symphony of heritage and honor: not to be missed.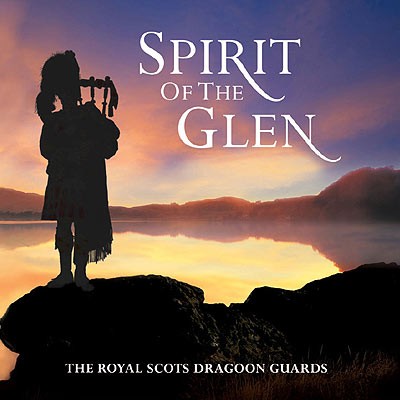 Tour Dates:
January
12 Philadelphia, PA Verizon Hall
13 Charleston, WV Charleston Civic Center Auditorium
14 Charlotte, NC North Carolina Blumenthal Performing Arts Center theater
15 Greenville, SC Bi-Lo Center
17 Newport News, VA Ferguson Center
18 Wilmington, DE Grand Opera House
19 New Brunswick, NJ STate Theater Regional Arts Center (2pm)
19 Newark, NJ Prudential Hall (8pm)
20 Fairfax, VA George Mason University Concert Hall
21 Princeton, NJ McCarter theater
22 Rockville, MD Robert E. Parilla Performing Arts Center
24 Buffalo, NY SUNY Main Stage theater
25 Rochester, NY Nazareth College Arts Center
26 Schenectady, NY Proctor's theater
27 Portland, ME Cumberland County Civic Center
28 Orono, ME Bangor Auditorium
29 Worcester, MA Mechanics Hall
31 Bloomington, IN Indiana University Auditorium
February
1 East Lansing, MI Catherine Herrick Cobb Great Hall
2 Cleveland, OH Palace theater
4 Pittsburgh, PA Heinz Hall for Performing Arts
5 Louisville, KY Whitney Hall
6 Champaign-Urbana, IL Foellinger Great Hall
7 Wheaton, IL Edman Memorial Chapel
8 Columbia, MO Jesse Auditorium
9 St. Louis, MO Fox theater
10 Omaha, NE Omaha Performing Arts Center Concert Hall
11 Whitewater, WI Irving L. Young Auditorium
12 Wausau, WI Grand Theater on ArtsBlock
13 Appleton, WI Fox Cities Performing Arts Center
15 Lawrence, KS Lied Center of Kansas
16 Kansas City, MO Music Hall
17 San Antonio, TX Lila Cockrell Auditorium
19 Houston, TX Jesse H. Jones Hall
20 Ft. Worth, TX Nancy Lee & Perry R. Bass Performance Hall
21 Austin, TX The Frank Erwin Center
22 Tucson, AZ Centennial Hall
23 Mesa, AZ Ikeda theater
24 Costa Mesa, CA Segerstrom Hall
25 Palm Desert, CA McCallum theater for Performing Arts
27 San Rafael, CA Veteran's Memorial Auditorium
28 Sacramento, CA Memorial Auditorium
29 Vacaville, CA Vacaville Performing Arts theater
March
1 Las Vegas, NV Artemus W. Ham Concert Hall
2 San Diego, CA Copley Symphony Hall
3 Modesto, CA Mary Stuart Rogers Theater
5 New York, NY Metropolitan Museum of Art - Temple of Dendur
6 Binghamton, NY Osterhout Concert theater
7 Stonybrook, NY
8 Boston, MA Symphony Hall
9 Stamford, CT Palace theater
10 Atlanta, GA Fox theater
12 Gainesville, FL Curtis M. Phillips Performing Arts Center
13 Melbourne, FL Maxwell C. King Center
14 Naples, FL Philharmonic Center for the Arts
15 Naples, FL Philharmonic Center for the Arts
16 Clearwater, FL Ruth Eckerd Hall
17 Jacksonville, FL Robert E. Jacoby Symphony Hall