The Rolling Stones to Perform During Super Bowl XL Halftime Show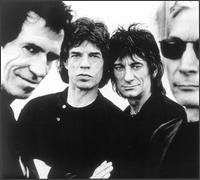 The Super Bowl just got even bigger. Taking a quick break from their "
A Bigger Bang
" World Tour, the legendary
Rolling Stones
will perform in the Sprint Super Bowl XL Halftime Show on ABC at Ford Field in Detroit on Sunday, February 5, the NFL announced today.
Watched by more than 133 million viewers in the U.S. last year, the Super Bowl is annually the nation's highest-rated TV program. The game will be broadcast to a potential worldwide audience of 1 billion in more than 225 countries and territories. Game time is 6 p.m. ET.
"We are thrilled to perform for millions of fans at one of the most exciting and highly anticipated sporting events of the year," said the Rolling Stones.
"We are excited to welcome one of the greatest rock n' roll bands in history to the Super Bowl," said Steve Bornstein, the NFL's executive vice president of media and president and CEO of NFL Network. "As we celebrate the 40th anniversary of the Super Bowl this season, it is fitting we work with The Rolling Stones whose music has thrilled audiences around the world for years."
Earlier today the Rolling Stones announced their European summer tour kicking off May 27, 2006 in Barcelona, Spain. The Rolling Stones - A Bigger Bang European Tour will play more than 30 concerts in more than 20 countries bringing their incomparable live stage performance to the most famous stadiums and venues across the globe from the UK to The Czech Republic. Continuing to set the bar for live modern rock concerts with an electrifying stage presence, the demand for Europe's hottest ticket of 2006 is certain to be as feverish as that in North America.
Related Links:
2005 Super Bowl Commercials
The Rolling Stones photos, history, discography & more...
Review of "A Bigger Bang"
Rolling Stones ringtones
Recent Articles:
The Rolling Stones Keep Going and Going and Going ...
The Rolling Stones Want Creature Comforts
The Rolling Stones Expand A Bigger Bang
British Choose the World's Greatest Rock Performances
The Rolling Stones Sell CDs at Starbucks
The Rolling Stones Keep a Defibrillator Backstage?