The Ring, The Gown & The Wedding: Inside Brad Pitt & Angelina Jolie's Engagement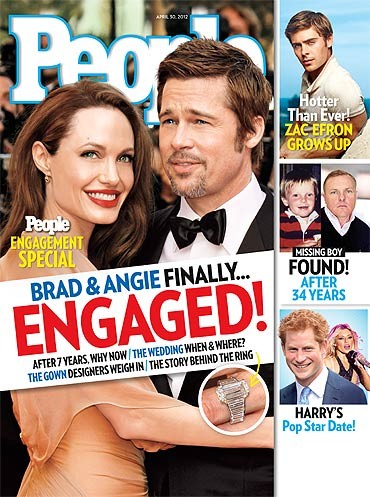 It's official! PEOPLE has the inside scoop on Brad Pitt and Angelina Jolie's surprise engagement – from her diamond ring to what the kids think about Mom and Dad tying the knot. After seven years and six kids together, Pitt secretly brought his own design for the ring to Beverly Hills-based jeweler Robert Procop. "Brad had the vision, he had the design, and we collaborated to fabricate it together," Procop tells PEOPLE. When asked if he was surprised when Brad told him the big news, Procop says coyly, "I'm never surprised at anyone."

The engagement ring, which Procop says is made with a diamond from a non-conflict area, was the most top-secret project of all. He won't confirm the custom-cut jewel's size or price but, says jeweler Neil Lane, "The ring looks like a beautiful classic large diamond with an art deco feel. Brad's sense of aesthetics is amazing, and knowing Angelina and what an elegant, beautiful woman and style icon she is, it only makes sense that he'd design for her one of the most beautiful rings in the world. They are an amazing, loving couple." An independent expert says the ring could weigh in at a total of about 10 carats and cost about $1 million.

Before April 13, when Jolie and Pitt publicly confirmed the engagement at a private viewing at the Los Angeles County Museum of Art's Chinese galleries, only a select few knew about it – and the duo spent the day at home together in L.A., savoring the moment until their kids returned from school in the afternoon. No one, of course, is more thrilled than the pair's boisterous – and increasingly vocal – brood, who had been urging Mom and Dad to puhleeeeze get married already.

It's a pretty traditional move for a pair who live by their own rules. Insiders who have spent time with them say that the family have settled into a genuine comfort zone as they emerge from the foggy infant-rearing years. "They've reached a stage where their family has jelled," says a source who has visited with the pair in France. "Their children are all of a certain age now, and they feel a stability. They can breathe a little as a couple."

PEOPLE asked fashion heavyweights Reem Acra and Monique Lhuillier how they'd dress this A-list bride. Acra envisions a body-skimming ivory satin gown, while Lhuillier sees a "Chantilly lace gown with a beautiful V-neckline, low back and a high slit," she says. "Angie has style. She takes a classic look and adds a sultry, sexy edge and makes it her own."

Construction at the couple's sprawling Château Miraval in France has ignited rumors about a wedding there – though locals say the addition looks more like a wine cellar than a chapel. Of course, the spot offers privacy – as does their L.A. compound. They also have strong ties to New Orleans, where they own a home, and their kids' birthplaces, including Cambodia, Ethiopia and Vietnam. As for when we can expect a wedding, Pitt's rep says, "There is no date set at this time," but the couple will be busy with work in the next few months. Besides, for now they are content to bask in their new betrothal. "They really do have a magnetism together," says a source. Adds another, "Brad and Angie realized long ago that for their family to work, they need to stick together as a team." No matter what style it takes, their wedding "will be a fun ceremony and party that the kids can be a part of," says the L.A. insider.


*Also In This Week's 'People'*
Zac Efron Grows Up: "People Say, 'Wow, You've Changed.' Yeah, I Have"
Exclusive – Missing Boy Found After 34 Years
Emma Stone & Andrew Garfield: "They're Clearly In Love"
Prince Harry's Pop Star Date: "She's Definitely His Type"


The new issue of PEOPLE Magazine is on newsstands everywhere now!