The Right People At The Wrong Time: A Look at CBS' New Fall Shows

Accidentally on Purpose
creator Claudia Lonow describes her new fall show, a comedy based on a memoir of the same name by Mary F. Pols, as being an unconventional romantic comedy.
Jenna Elfman
's character is a 30-something - well actually 37 as the pilot is quick to constantly point out - newspaper woman who gets pregnant after a one-night stand with a 20-something (the adorable
Jon Foster
) who lives in his van. From there, the two move in together because the guy is determined to do what he can to be a good dad, despite being scared to death and not really having a frame of reference on how to do so.
The couple is the aforementioned "right people at the wrong time," but in actuality, Lonow could be using them as a metaphor to describe CBS' new fall line-up in general. Though there are laughs to be had in "Accidentally on Purpose," mostly thanks to co-star
Ashley Jensen
(
Extras
) who plays the quintessential slightly drunk best friend character, the format just feels tired and old. A multi-camera sitcom where there are almost none, the show stalls due to the forced laugh track and stereotypical sets. And they are not the only ones.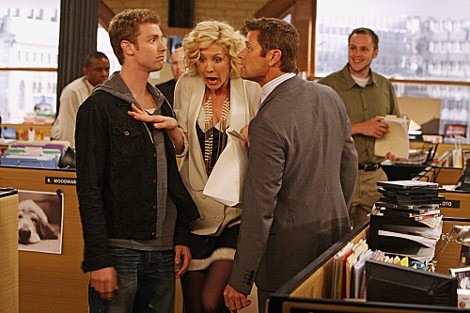 Image © CBS Broadcasting
Alex O'Loughlin
(
Moonlight
) and
Katherine Moennig
(
The L Word
) both have more than enough star potential - not to mention diehard fanbases! - to make their joint venture, Carol Barbee's
Three Rivers
, a success. Without them, though, the series might fall flat. Each week's episode revolves on the stories of two very different people from very different walks of life who join together through organ donation. In the pilot, it is a young bride who is wounded so badly on her wedding day that her family opts to pull her off life support and a young basketball player who collapses mid-game.
"Three Rivers" guarantees to tug at the heartstrings, but it will be surprising if the episodes do not become quickly repetitive. And with a handful of other new medical shows to try out this year, "Three Rivers" is going to have to build campaigns hard and fast around their two stars or risk falling into the pit that is "permanent hiatus."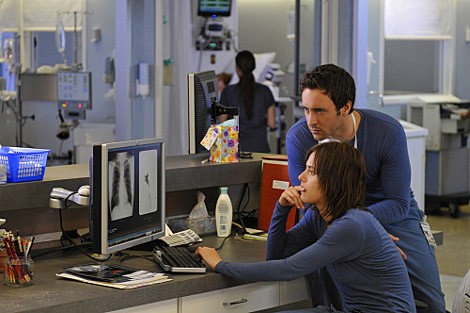 Image © CBS Broadcasting
NCIS: Los Angeles
is one of the rare shows that is both filmed in LA and takes place there. Utilizing some of LA's best landmarks (upcoming scenes welcoming back
Chris O'Donnell
's character of Callen, for example, were shot at Santa Monica Pier), the show has a chance to (literally) change the landscape of network crime dramas. However, instead of capitalizing on this city's rich crime history and flashy high-speed chases, co-creator Shane Brennan assures "NCIS" fans that this new spin-off will closely follow the format of the original, begging the inevitable question of just why another one in this now series is even necessary. The humor will still be there, especially with
Linda Hunt
playing opposite the guys, and "NCIS" fan favorite Abby (
Pauley Perrette
) crossing over for a few episodes.
The one thing that will make "NCIS: Los Angeles" fresh, unique, and stand out from the other, older, now somewhat stale procedurals is
LL Cool J
in the role of Special Agent Sam Hanna. Brennan could not stop singing his praises at CBS Studios' fall preview screenings, commenting: "His smile and charm really is how you see it on TV, in person. He is extremely enthusiastic about the show." In fact, when LL learned O'Donnell had to learn a little Russian for an episode, he decided to jump headfirst into learning Arabic to seem more authentic. Brennan insists that it was not in LL's contract to do so: "He did it because he wanted to."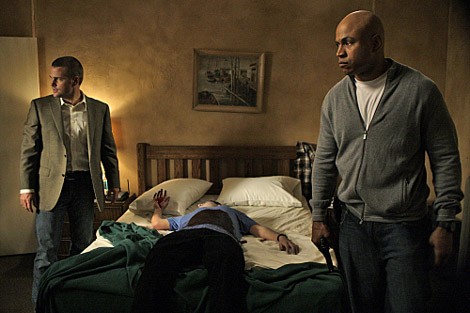 Image © CBS Broadcasting
Robert and Michelle King, a real-life husband and wife writing team, came up with their idea for
The Good Wife
after watching countless scandals unfold on the news. However, even they cannot ignore that a simple tale of a woman scorned can't go on for episode after episode, let alone season after season, so they set out to create rich, layered characters who could stand on their own, even if the scandal aspect was removed.
Julianna Margulies
is said woman scorned as Alicia, the wife of a politician (
Chris Noth
,
Sex And The City
) who has been jailed under suspicion of abusing his office after a sex scandal. Margulies is forced to re-join the work force to keep the family afloat, and she takes a job as an associate at the law firm at which one of her good friends (
Josh Charles
,
Sports Night
) from law school works. There she is pit against a much younger associate (
Matt Czuchry
,
Gilmore Girls
) and quickly finds that she quite enjoys the freedom to regain her own sense of self.
The Kings promise their show "won't be
Perry Mason
with people breaking down on the stand every week," and their pilot delivers hints at the quirkiness to come - from zippy one-liners, mostly relating to Alicia's age, to another senior lawyer (
Christine Baranski
)'s odd, shaggy dog being in the office. Where "The Good Wife" runs the risk, however, is in being written off as a subject matter that is not "hip" enough for CBS TV's younger crowd.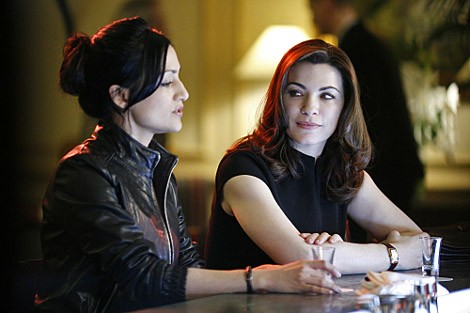 Image © CBS Broadcasting
The show that stands the best chance this fall season for CBS, somewhat surprisingly, appears to be "Accidentally On Purpose" due to the star power of Elfman, the newcomer appeal of Foster, and the fact that their lead in is
How I Met Your Mother
. Here's hoping that Lonow has the opportunity to inject a good chunk of her own witty, firecracker spirit into the first few episodes and give audiences a chance to find something they may grow to love...again, not unlike the protagonists of her own show.
Story by
Danielle Turchiano
Starpulse contributing writer