'The Real World: St. Thomas' Star LaToya Jackson: 'There's More To Me Than What You See'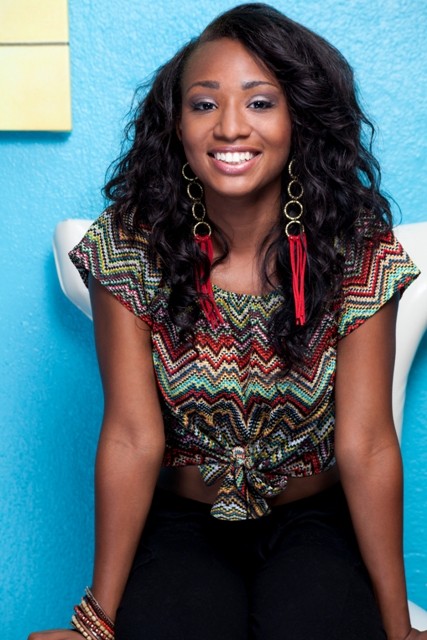 "I'm a small-town girl with big-time dreams," said The Real World: St. Thomas cast member LaToya Jackson during our recent interview. Before you ask, she's not related to the infamous Jackson family whatsoever. Rather, she's a spunky 22-year-old from Petersburg, Virginia, where "everybody pretty much knows everybody. There's approximately 35,000 people. It's not hard to run into an old classmate at any given moment.
"I never really got out of my home state," she continued. "I went to Virginia State University, where I recently graduated from. I took a job at a local news station in Richmond as a PA. Being on The Real World was my first time getting a chance to see the rest of the world!"
Like her fellow castmate Brandon Swift, LaToya has an interest in television, which makes Real World an even better fit for her. It was that aspiration which led to her casting on the show.
"I had the dream of becoming a news reporter, and then I realized news wasn't for me anymore," LaToya explained. "It was just too square, too dull. I figured I had too much of a personality for this; I could do something else in TV besides news. I spoke with one of my co-workers about trying to get back into radio, and he said, 'You should try for reality TV.' That's all he had to tell me." She spotted a casting call notice while trying to book guests for a news show she was working on, and the rest is now history.
The show gave LaToya the opportunity to broaden her horizons beyond Virginia. "I did a lot of things that I never had done," she told me. "Everything was a first experience for me. We did everything from snorkeling to kayaking and scuba diving. I got a chance to drive a seaboat at one point."
The biggest challenge for her was "The scuba diving. We had a chance to take lessons to become scuba certified, and it was very challenging. Something as small as breathing..it's definitely different breathing when you're underwater." But LaToya enjoyed the challenge, because "It's something that you accomplished. Easy is boring to me."
Having watched previous seasons of the show, LaToya is well aware of Real World's reputation for debauchery, and wants the audience to know that it's not exactly deserved. "Everyone has this stigma that it's all about drugs and alcohol. That's not what it's all about," she said. "Even though that does play a huge part in how the show is presented to an audience, what you said and what you did came from you. Nobody told you to say those words or do those things while you were living in the house."
What does she want the Real World audience to know about her? "I'm not just sassy, a bunch of mouth. I have a big personality," she told me. "There's more to me than what you see. I am a little bit diva-ish but I like to joke, I like to goof around. I'm a very nice individual."
That's something that's born out when you speak to her and half the time is spent in laughter. LaToya, who's a fan of MTV's Snooki & JWOWW and Oxygen's Bad Girls Club, has some spot-on words about WETV's hit show Bridezillas: "That's why I continue to hold faith [that] one day I'll find my Prince Charming, if these crazy women can find a man!"
And thanks to her Real World experience, Latoya now knows "that what I want to do is to be on TV. I want to be that television personality...to be the next Bob Barker. I want to host a game show, to get everybody excited to tune in. That's me."
But before she gets there, LaToya is going to savor being a part of The Real World, even if it hasn't necessarily sunk in yet. She added with a laugh, "I'm still in disbelief that I just spent three months filming a national reality show and millions of people are going to be tuning in."
You can follow LaToya on Twitter at @LaToyaJMTV. The Real World: St. Thomas premieres tonight at 10 PM ET/PT on MTV.
For more from Brittany Frederick, visit my Starpulse writer page and follow me on Twitter (@tvbrittanyf).
(c)2012 Brittany Frederick/Digital Airwaves. Appears at Starpulse with permission. All rights reserved. No reproduction permitted.