'The Real World: St. Thomas' Star Brandon Swift: 'I'm Not a Fan of Drama'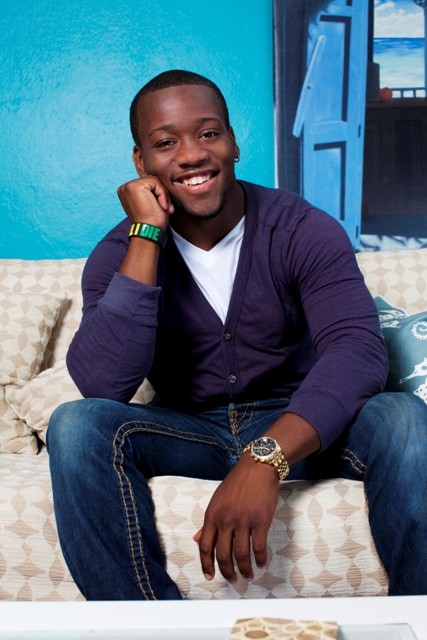 There's certain to be a lot of drama on MTV's The Real World: St. Thomas, which premieres tonight at 10 PM ET/PT. Just don't expect cast member Brandon Swift to enjoy it.
"I really am such a happy person that just loves being around people. I'm not a fan of drama," said the outgoing 22-year-old from Edison, New Jersey during our interview yesterday. "I do respect all types of people and every person. I really try to be honest and real, and try to look out for everybody's best interests. I hope that everybody can see that."
In fact, he wasn't interested in appearing on Real World at all when he ended up at an audition. "I came down for moral support," he explained. "I'm waiting in line for hours and I thought, 'I may as well go in there and speak my piece.' I really didn't care about doing the show, so I was extremely genuine. The reason I got on the show was because I was keeping it real."
The unplanned experience ended up being beneficial for Brandon, who goes by "Swift" on the show to avoid confusion with another Brandon in the cast. "I'm already glad I did it," he told me. "I love the fact that I got to live in basically paradise with some new and different people that I could see being lifelong friends."
Never mind those pesky MTV cameras recording everything that's happening. "They're there, but they're not there. You really just get used to it," Brandon added. "It took me like a week and a half, two weeks. Especially since time in the house just goes by so slow sometimes. Two weeks in that environment feels like two months!"
That's in part due to the lack of some things we take for granted like social media. And while in the first week you might be primping for the cameras, self-conscious of your looks on national television, after that "You just stop caring," he admitted with a laugh. He doesn't care if he doesn't come off as a fashion plate - just as long as he comes off as the real Brandon Swift.
Real World was also a learning experience for him, as he's interested in becoming a sports and entertainment lawyer now that he's graduated from Temple University. (It's no surprise that he's a huge fan of USA's Suits.) "I loved learning the business side of it," he said. "Having the opportunity to learn about what goes into production and behind the scenes. When it comes to the business aspect, it's definitely opened up a lot of doors already. This is really a stepping stone, if used the right way."
In addition, "It's reconnected me with some people I haven't talked to in awhile. It's reminded me how many people out there love me and have shown me so much support over the years. My parents have actually been kind of cool about it," he confided. "It's fun to see my mom extra excited."
Thanks to the show's following, Brandon's finding himself becoming a minor celebrity before the first episode of his season has even aired. "I get stopped all the time now," he explained. "People will ask me a hundred and one questions." And he's happy to answer all of them. "I want people asking me questions once the show airs. I want them talking about it," he added. "I love to talk to everybody. Everybody's people, is how I look at it. Every time I've met celebrities, I've tried to talk to them like they were just regular people."
That includes Brandon, who's never short of a positive thing to say, is willing to listen as much as he enjoys talking, and wants you to know that whatever attention being on Real World has brought or might bring, it definitely hasn't gone to his head. "I did not change," he said. "The person I was before the show is the person I am right now." All that's different is that he's just about to introduce himself to millions of viewers.
You can follow Brandon on Twitter at @BSwiftMTV. The Real World: St. Thomas premieres tonight at 10 PM ET/PT on MTV.
For more from Brittany Frederick, visit my Starpulse writer page and follow me on Twitter (@tvbrittanyf).
(c)2012 Brittany Frederick/Digital Airwaves. Appears at Starpulse with permission. All rights reserved. No reproduction permitted.