'The Real Housewives Of New Jersey' Recap: Hair We Go Again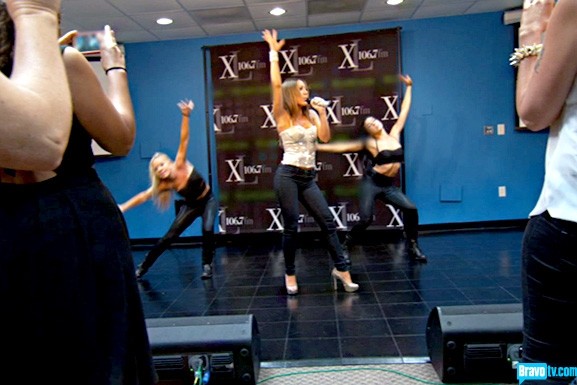 Apparently it's true that Justin Timberlake's manager, Johnny, has shown interest in taking Melissa on as a potential new artist, and that wasn't a strange dream I just had. In order to complete her demo, she has to fly down to Orlando (Joe's going too because of reasons?) and stay at Johnny's magical recording studio compound/human-sized mini golf castle.
The point of this trip is to whip Melissa into shape before recording her demo tape, after her disastrous session in her home studio. Before Johnny can take her around as one of his artists, she needs work. She'll have to work with a vocal coach and do some intense training, then sing live on a radio station there in Orlando. If she passes that test, she gets to perform live at a concert for 150,000 people. Welcome to bootcamp, Gorga!
Back in Jersey, it's like a flashback from an older season when Jacqueline and Teresa go shopping at Kim D's Posche boutique. Kim looks just as shocked as any of us would when the duo walk in the door, all smiles and ready to try on hideous satin dresses. Because none of these women can go a single weekend just relaxing at home in their Juicy sweats, Kim is throwing a party to celebrate the opening of a new Posche boutique at a strip mall that's attached to a blowout salon.
One problem: Penny's going to be there, and she's probably bringing both her clip-on weave and her horrible husband, only known as "Johnny The Greek From Twitter" by anyone in this group. Jac and Teresa say it's fine (because what are they going to say??), but they're both telling a different story at home.
Teresa obviously has heard by now what happened with Penny and the Gorgas at the bar during their last confrontation, and now wants a little confrontation of her own. She still maintains that she doesn't know Penny at all, besides through Kim, and never asked her to spread the rumors. Jacqueline is now invested in talking to Penny because her husband has started tweeting that Jac and Chris are lying about Nicholas being autistic for attention.
NOT COOL, Johnny The Greek From Twitter.
Before they left for Florida, Joe and Melissa discussed that Joe should confront Penny's husband the minute they returned from their trip. Basically, things are not looking good for Kim's party. Not that this doesn't probably thrill her to pieces; she feeds on the drama. It's what keeps her hair so blonde.
In Manzo Land, it's finally time for the grand opening of Little Town, Chris and Albie's new restaurant. While the boys are running around trying to make sure everything goes well, Caroline mopes because she just can't help worrying about them. She also makes the strange comment that if the restaurant fails, "Al will never retire." Does this mean their dad is financing the whole endeavor?
If so, she kind of spoiled the whole illusion that they're running their own restaurant, which they've been trying to show for the last few weeks. Al doesn't seem too worried about his financial future, though; he tells Caroline for the thousandth time to shut up and stop heckling her own children, and looks like he'd rather be taking a nap. He endured that Arizona vacation for like four episodes, Bravo. Can't you let him out of the contract for the rest of the season?
After a cringeworthy session with an exasperated vocal coach, things aren't looking too bright for Melissa's singing career, but they go forward with the radio gig anyway. At home, the Lauritas and the Wakiles gather for a "listening party" to hear it as it happens, while Teresa's family listens in on a car trip.
And Melissa isn't half bad! Her new song is a catchy pop tune that the Giudice girls all groove to in the car. The Lauritas and the Wakiles aren't so convinced of her singing skills, but who cares about them – Johnny the manager thinks she's great. She passes the test and gets to perform at the huge concert. Now to prepare. As Richie quips, girlfriend can't dance.
With the pop diva bootcamp out of the way, now comes the time to have yet another confrontation with Penny. Can you imagine being one of the other people who regularly attend Kim's parties? It must be a blast. The party is the usual fare of too much champagne, some RHONJ peripheral characters schmoozing in a sad environment and free beauty services being offered in a side room.
When Penny and her golden weave enter the room, the women practically fight over who gets to talk to her first. Jacqueline marches up first and is clearly taken aback when Penny greets her warmly, despite never actually meeting before. When Jac tells her that she knows about her husband's awful, disgusting tweets about Nicholas, Penny is incensed and calls her a liar.
Apparently she has forgotten that you can look at things you have written on the internet and also read them? Penny quickly changes her story when this fact is brought up and says that someone told her/her husband to write the tweets. Gee, I wonder who that could be? Poor Jac actually doesn't know at this point.
Melissa pulls Penny away before she has the chance to spill the beans to confront her about her own situation with Teresa. Penny tells her that Teresa told her to tweet at Melissa and ask her about visiting her father-in-law in the hospital earlier in the year. She also says that Teresa knew that Melissa was going to be set up at the Posche fashion show last year…uh oh.
Next Week, the situation continues in more detail as Penny's husband shows up. FIGHTTTT.
Grade: A
Stray Observations:
Was the snippet where Joseph gets a car just filler so that they could include something involving Kathy in the episode? It wasn't related to anything else that happened, and just reiterated for the umpteenth time that Kathy worries too much/isn't listened to/has a mean husband, etc. Her presence is so incredibly boring – if she wasn't related to Melissa and Teresa, I would honestly doubt that she would be back on the show next season. Needs more Danielle Staub.
Can we talk about Teresa grabbing lunch with Victoria Gotti, dressed like a pimp in all purple with a floppy-brimmed, purple-feathered hat? Apparently the two met on Celebrity Apprentice and are now buddies. To be a fly on that wall.
Teresa: "It's not every day that a 30-something year-old becomes a pop star, but maybe there's a first time for everything!"