'The Real Housewives Of New Jersey' Recap: A Manzo Of Her Word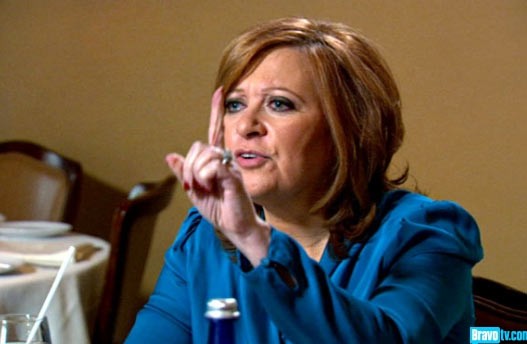 If anything ever happens to Teresa Giudice, Milania will step right in and take her place. Teresa is doing her best to help the girls understand the importance of sisterhood and loving one another, but they're not quite getting the message. Milania is obviously the star of the exchange, mimicking her mother's speech as they eat dinner and make cards for their sick grandfather. God bless us everyone.
Joe and Melissa are still trying to sell the house that they promised to sell during the last reunion special to get away from Teresa. Blame the economy. The problem is that they're asking for over three million for the mansion, and they're not getting any takers; that's what you get when you build a recording studio in the basement, buddy.
Caroline and Al have their love pad in Hoboken now, so they don't live at their mansion in Franklin Lakes very often. Lauren has been taking in strays to fill the void – literally. Caroline's sister Fran, and her Chihuahua Frito live at the house now.
Kathy is trying to teach her son, Joseph, how to drive. Unfortunately, her gross husband, Richie, is along for the ride. Joseph is picking up Richie's personality more and more as he gets older, and it's not cute for either of the dudes. Kathy's trying to tell him about driving stick shift, and Richie equates it to sex, yet again. Give the lady a break.
Jacqueline has been asked to do a vlog for Parenting Magazine about her struggles parenting her child with autism. At the same time, her husband, Chris, talks to Joe, about his struggles. Jacqueline and Chris had wanted a baby for such a long time; they had gone through five miscarriages before having Nick. Now they're doing everything they can to help their child, and it's a stressful situation, to say the least.
Kathy and Richie go to visit Victoria at her college, even though she lives at home. Kathy is happy about this, because she's heard that there's a lot of sex in college, and Victoria doesn't need all that. She's studying to be a nurse practitioner. Richie can't take anything seriously, and pokes at the dummies used by the nursing students for practice, visibly irking Kathy – could this be the start of some marital problems?
Joe and Melissa have an open house to try to sell their mansion, and it doesn't go well. The house has weird features, like keyhole windows, and when they go to turn on a sink, the knobs break clean off. It doesn't even have a pool, which is apparently a no-no, if you're asking for that much money. Looks like the Gorgas are going to be Teresa' neighbor for a little bit longer.
Caroline and Teresa meet up at a fancy restaurant to chat. It doesn't go well either. Caroline really doesn't have any business talking to her about sibling relationships, since she's currently not talking to her sister, Dina. The whole thing dissolves into a fight about how Jacqueline backstabbed Teresa, which she never did.
Chris feels like Jacqueline doesn't spend enough time having fun, so they're hosting a game night. The men (and Rosie) play poker and talk about boobs, while the women drink wine. Chris lets the dudes know that he's been secretly working with a therapist to help Nick say "I love you" again, because that's all Jacqueline wants in the world. He brings him to Jacqueline and coaxes his son. He says it! Everyone cries. It's so meaningful, not only because of what he says, but because he was able to say something new. Now Jacqueline knows that her son has the ability to learn and grow even more.
Over at the restaurant, Teresa and Caroline are throwing down. Caroline pulls out the big guns and says that she shouldn't let her dad die knowing that his children are fighting. Ouch. Teresa agrees for the millionth time to meet Melissa half way.
Let's see how that goes.
Grade: C
Stray Observations:
- When Kathy and Richie's 16 year-old son asks for a Ferrari, they simply say "you'll have to learn how to drive a stick shift first." Must be nice!
- Lauren looks amazing post-Lap band surgery. She was almost unrecognizable. 
- Best quote: Teresa: "Women in Jersey are crazy!" She admits it!