The Quality Of Popular Music Has Declined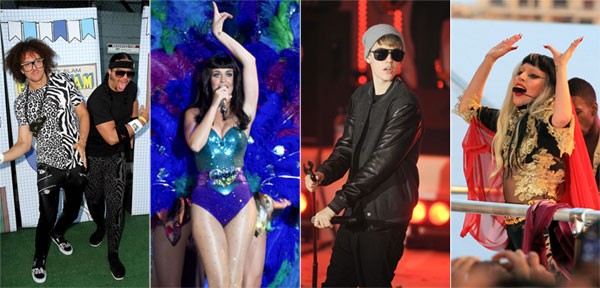 When you look at someone who succeeds in a certain field, there are always numerous factors on why that person's particular talent is above the rest and he or she seems to always excel. Take Peyton Manning, Michael Jordan, Kobe Bryant, Denzel Washington, and even Albert Pujols, and it is evident that these special talents have not only shown the world their skills, but also inherited the proficiency of their particular areas. They do it for the art of their field. Not that sports and music goes hand in hand because they don't, it's just those particular athletes love their arena. And because of that, their talents speak for themselves.
Once upon a time our favorite musical artist was our hero and our voice. But the landscape has changed so much that record execs have relied on "the machine" (writing music to dumb down the masses, promoting and glamorizing, making artists well marketed and calculated) that artists are labeled "overrated" now more than ever and have assisted in the decline of pop music. When I say overrated, I'm saying quite a few recognize that artists are marketed more for appeal and to turn basic songs into radio hits instead of actual talent. Bulks of songs that are out today don't have meaning. Therefore, music today has been declining as a true art form. It's simply because of the successful marketing that's dumbed music down for the masses to gravitate towards.
When I look at the songs that topped the Billboard Hot 100 charts this past year, I only see two that warrant my attention as timeless authentic pop records that could mean something and be considered as true art. My picks are "Firework" by Katy Perry and "Rolling in the Deep" by Adele. ("Someone Like You," also by Adele, is an honorable mention.) The two songs have meaning and the music is something that we can look back on and remember as a song that pushed our brains limits. I can even say Lady Gaga's "Born This Way" is a song that means something. But I can't sit and consider LMFAO's "Party Rock" or Rihanna's "S&M" as songs we will remember when we get old and gray.
Just because you can put a catchy melody together and extend a song to four minutes doesn't make you a great artist.
The majority of music execs and artists have forgotten that, and it's why older folks have scoffed at music of today and the last 25 years.
Not too long ago, I was in theater class and my professor described what exactly art is. He didn't just say the standard "art is what you are and what you do" lingo, but he rather initiated that art is a thing that we humans create, that has a perception of order, shows emotion and is attractive. I felt so intrigued by his lecture that it made me wonder how often we have said we love this song because we actually found it attractive? Not like how a fine woman with short shorts showing her cleavage walks past you attractive, but actually a woman that pulls you in with her mind and looks?
The state of pop music that we are in now is the stage of only dressing to attract the masses for its simplistic themes and music instead of its soul.
It didn't use to be that way.