The Pretty Reckless' Set At Portugal Festival Axed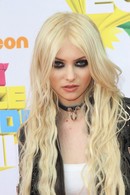 Taylor Momsen has apologized to fans after her band The Pretty Reckless' set at a Portuguese music festival was scrapped at the last minute.

The rockers were set to play the Optimus Alive event in Alges on Friday, but their gig was axed due to "structural" problems.

Momsen is angry about the band's doomed set, but she's promised fans in the country the group will return in the future to play a full concert.

In a post on her Twitter.com page on Friday, she writes, "Portugal our set got cut tonight due to structural problems. What the f**k! Can't wait to come back and actually play... see you soon Portugal."