The Postal Service 'Give Up' Ten Year Anniversary Edition Review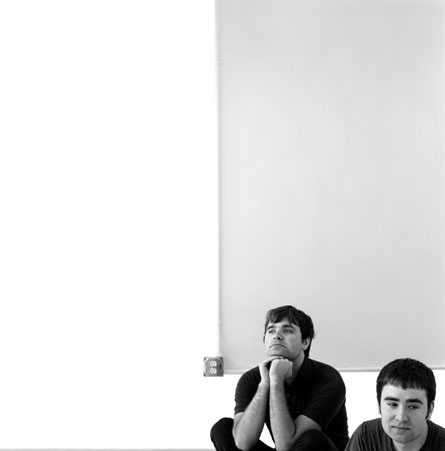 The landscape of music has changed drastically in the last ten years; the internet has allowed countless bedroom producers to become big name recording artists (i.e. M83), indie bands like Modest Mouse, Wilco, and the Flaming Lips are all stars in their own right, and groups like Fun. have broken completely into the mainstream.

"Give Up" may not be the genesis of this shift, but it certainly marks one of the most important releases of the last ten years, and perhaps the most influential one.

The Postal Service was the side project of Ben Gibbard (Death Cab For Cutie) and Jimmy Tamborello (Dntel), who had previously collaborated on Dntel's seminal "(This is) the Dream of Evan and Chan." That song was without a doubt the highlight of Tamborello's 2001 released career best "Life is Full of Possibilities" and yet after it's release no one thought that the collaboration would continue.

Luckily, it did, and Jenny Lewis (of the recently broken up Rilo Kiley) joined the two for the recording of their one and only record "Give Up." The album was never expected to be a hit, but luckily due to the massively popular hit "Such Great Heights" it became a million seller. A side project is often an afterthought of those involved in it, yet the Postal Service had become more successful than any of the three's actual bands (until Death Cab for Cutie became successful later with hits like "Soul Meets Body" and "I Will Possess Your Heart").

In the ten years since it's release, the album has been imitated by countless bands, including Stars, and The Whitest Boy Alive, and were completely ripped off by Owl City. However, ten years later, "Give Up" still sounds fresh and like nothing out there. Ben Gibbard's often muted vocals stand in contrast to Tamborello's love of loud and dissonant machine like sounds, and Jenny Lewis provides beautiful, pitch perfect harmonies.

The album starts off perfectly with "The District Sleeps Alone Tonight," a tender track about a long distance relationship where the narrator seems alienated from his lover and the new lifestyle they have taken up. The track begins with very little instrumentation, and then the gorgeous harmonies kick in, and layers and gradually added. About halfway through the song, the drums kick in and the song kicks into a blissful duet between Tamborello's machine blips and Gibbard's very organic guitar playing. The vocals kick back in and bring layers of sound with them, as Gibbard chants "I was the one worth leaving."

As if "District" wasn't a strong enough track, it's immediately followed by "Such Great Heights" which was this record's biggest hit. Again, the dynamic between Gibbard's low key singing and guitar playing and Tamborello's machine like sound are on display here, and it's nearly impossible to hate this song. The lyrics would be cheesy if anyone else delivered them, but Gibbard manages to truly make this one of the most romantic songs ever recorded. Again, distance between two lovers is the lyrical context here, but this song is much more optimistic about the whole scenario. Ten years later, this song is nothing short of a classic.

"Sleeping In" is a song about a man who does not want to live in reality anymore, and would rather just live in the world of his dreams. This further ties into the theme of distance that seems to exist throughout this entire record, but this time it's distance with reality. "Sleeping In" has aged well, but has suffered from having to follow "Such Great Heights" which has made it less than memorable.

"Nothing Better" begins with a synthesizer riff that sounds like it was recorded in a nuclear wasteland, but the drums quickly kick in and bring Gibbard's singing with them. The track is about a man trying to convince his lover that she should not break up with him by guilt tripping her into staying with him. Jenny Lewis gets to sing her own verse here, and the back and forth dynamic between the two is fantastic.

"Recycled Air" is a track about riding in an airplane, and from that description it would be hard to guess that it's actually the best track on the record. Tamborello provides a long synth intro that brings to mind the sounds of take off, and then gently settles into an atmospheric groove that could be best described as "floating." Gibbard is clearly entranced by the idea of flight in his lyrics, and sings "calm down, release your cares" and Gibbard himself seems to be asking the listener to slow down for a minute and enjoy things after the frantic pace of the first half of the record. The track ends with a few seconds of silent, as if to serve as an intermission.
"Clark Gable" starts off slowly with a slowly building wall of synthesizers as if the curtains at a show are opening, and the first verse begins when Gibbards vocals kick in. The song is relatively tame until the chorus, at which point a horn section, a throbbing bass, and some well used dissonance join the fray. Gibbard sings "I want so badly to believe that there is truth, that love is real" and it becomes apparent that the song is about the belief that true love only exists in movies.

"We Will Become Silhouettes" is one of the best "end of the world" songs ever written, and features lyrics about a man trapped alone inside his bomb shelter after the nuclear holocaust. The song itself sounds optimistic and upbeat, but the lyrics stand in stark contrast. The narrator is "screaming at the top of my lungs, and pretending that the echoes belong to someone" and Tamborello genius layers Gibbard's own vocals on top of each other to imitate this echo. The idea of distance from others is on display again here, and yet the song is so immediately catchy that it's easy to ignore it.
"This Place is a Prison" is the most downbeat track on the record, and features lyrics about alcoholism. Tamborello builds the brick walls of sound which trap in Gibbard's vocals, and the layers of sound only get more oppressive as the song goes on.

"Brand New Colony" starts up with an incredibly catchy riff, and then kicks into full swing when Gibbard's vocals drop. Things may sound a bit formulaic by this point in writing, but luckily this track dramatically shifts halfway through, where Gibbard and Lewis's vocals guide the listener through a massive field of machine sounds, organic guitars, drum beats, and crunchy synthesizers. Despite the insane amount of layers, things remain completely listenable and never veer out of the range of being enjoyable, and it's an experiment in sound that completely paid off.
"Natural Anthem" begins with something that sounds more akin to a Venetian Snares track than a Postal Service one, with drum and bass beats backing a somber violin line. After a few bars, all of the synths kick in to create what sounds like a street parade of Casio's that are all playing the lowest note possible through blown out Marshall stacks. It's the most different sounding track on the album, yet is masterful nonetheless, and Gibbard's vocals don't even show up until the very end of the album. It's a completely masterful way to end the album, as it's both not what the listener expected and yet completely fascinating and addictive nonetheless. Gibbard sings "I'll write you a song, and it won't be hard to sing" and it's clear that this was the mantra of the whole record, crafting simple pop songs in the context of the new machine dominated music world.This record almost seems more at home now in 2013 in the world of electronic pop domination, yet is somehow almost too sophisticated for that world as well. In fact, it could be said that this album will someday be timeless because despite it's simple mantra, no one has done it better since the Postal Service, and no one probably ever will.
Being that this is a deluxe edition, it also contains fifteen bonus tracks. The most exciting of these tracks are the two new songs "Turn Around" and "Tattered Line of String." Both of them sound like they would have been perfectly at home on "Give Up" and are hopefully the first of many new Postal Service tracks (if the indie music Gods are good to us).

Also featured and notable here are the covers of "Suddenly Everything has Changed" (originally by The Flaming Lips) and "Against All Odds" (originally by the master of cheesy music himself, Phil Collins). "Against All Odds" is especially notable because the song translates so well to The Postal Service's sound that it's believe-able that Gibbard himself could have written it.

The Shins excellent cover of "We Will Become Silhouettes" is also here, which shows how well the song translates to simple folk indie pop. Good songwriting is when a song can be put into a totally different context and still be amazing, and clearly "Silhouettes" was written by a master. Even better, Iron and Wine's cover of "Such Great Heights" strips it down to a plaintive ballad played solely on one acoustic guitar and it becomes heart wrenching in it's new form, changing the song so drastically that listening to the two side by side would put someone in disbelief (this version was prominently featured in the movie "Garden State," actually).
Would the re-release of this album be any less significant without all the bonus material? No, absolutely not, but it's nice to have it nonetheless. 10 years is a long time for any piece of art, but it's clear that "Give Up" has with stood the test of time perfectly, and will be just as relevant 50 years from now.

Rating: 10 out of 10
Bottom Line: "Give Up" was a masterful record ten years ago, and may now be even better today. If you love music, or even enjoy it, pick this album up.