The Pixies Play 30-Song Fan Gig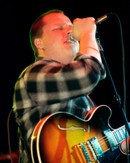 The Pixies showed their gratitude to their fans on Saturday night by playing a massive 30-song set at a packed venue in Los Angeles.

The rockers added the surprise addition to their Doolittle World Tour at the Music Box in Hollywood and they thrilled fans with scores of their hits.

The two-hour set kicked off with "Bone Machine," which the band failed to finish after breaking down in fits of laughter.

However, the musicians managed to pull themselves together and deliver almost all of their popular tracks.

Bassist Kim Deal told the crowd, "We're doing a lot of songs that we haven't done in a while - our setlist is like, two pages, so just get comfortable."