'The Other Dream Team' Now on DVD and Digital Download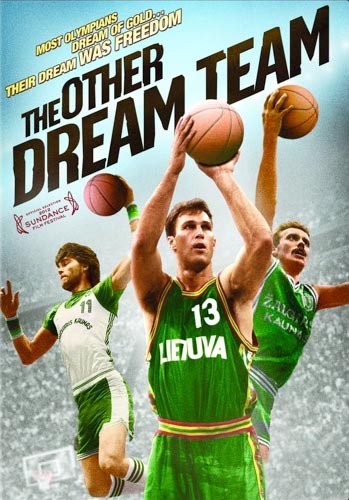 Basketball fans can check out an intriguing part of the sport's history with the arrival of the documentary flick The Other Dream Team, now on DVD and Digital Download from Lionsgate.
The doc tells the story of the 1992 Lithuanian national basketball team, their success at the Barcelona Olympics, and the impact they had on their country. Fans of Glory Road, Miracle or other inspirational sports stories will want to give this one a look.
Here's the studio description of the movie:
Written by Jon Weinbach and Marius A. Markevicius (who also directed), the film documents the Lithuanians' experiences behind the Iron Curtain for 50 years, where elite athletes were subjected to brutalities of Communist rule. As they hid from KGB agents and feared for their lives, Lithuania's basketball stars always shared a common goal
- to utilize their athletic gifts to help free their country.

The film features the original members of the
1992 basketball team as well as interviews with American sports figures Bill Walton, Bob Costas and Jim
Lampley. The DVD special features include a Q&A as well as an audio commentary.
The film was also nominated for the Grand Jury Prize at the Sundance Film Festival.
Check out an exclusive clip from the diector/producer Q&A below and catch the film on DVD or digital today.
For more from Brittany Frederick, visit my official website and follow me on Twitter (@tvbrittanyf).
(c)2013 Brittany Frederick. Appears at Starpulse with permission. All rights reserved. No reproduction permitted.