The Osbournes Returning To Television For Animated Series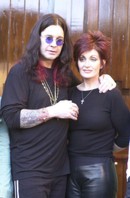 Rocker Ozzy Osbourne and his family are returning to TV to voice themselves in a new animated series.

The Black Sabbath frontman, his wife Sharon and their two children Kelly and Jack, first opened up the doors to their home for The Osbournes, an MTV program which ran from 2002 to 2005.

And now, after a short hiatus, the family has signed up to share its day-to-day life with fans again in The F'n Osbournes.

Recently engaged Jack, who is also due to become a first-time father this year, will produce the project with his TV presenter mom and bosses at Canadian animation company Cuppa Coffee.

Each member of the family will voice their own character and plans are currently in place to create a total of 20 episodes, according to GossipCop.com.

The F'n Osbournes will be pitched to network executives in April.