'The Office's' Ellie Kemper Is Engaged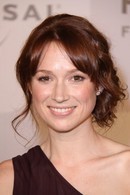 Actress Ellie Kemper is engaged to wed her comedy writer beau.

The Bridesmaids star announced her plans to wed Michael Koman on Wednesday, during a TV interview with her fiance's former boss, late night host Conan O'Brien.

She said, "My family likes him a lot. They've met him many times. My parents are very warm, welcoming people to begin with, but also, Michael's a delight."

The couple has been dating for over two years.