'The Office' Season Six Comes To DVD & Blu-ray September 7

For the first time ever on Blu-ray, fans of "the most influential show since Seinfeld" (Rob Sheffield, Rolling Stone) can watch the latest episodes of "The Office" without ever setting their DVR when "The Office" Season Six arrives on Blu-ray Hi-Def September 7, 2010 from Universal Studios Home Entertainment. As part of this groundbreaking set, the Blu-ray release of "The Office" Season 6 will allow fans to access content like never before via BD-Live. Through their Internet-connected Blu-ray player using BD-Live, purchasers will now have an opportunity to watch the latest five episodes from Season Seven after they air on their home televisions. Season Seven episodes will be available in HD, pending individual Internet connection speeds.

Also available on DVD, "The Office" is a documentary-style look at the lives and loves of paper supplier Dunder Mifflin's hilariously irreverent employees, featuring a stellar ensemble cast including Steve Carell in his Golden Globe-winning and Emmy-nominated role. With a landmark season that included everything from romance, marriage and parenthood to promotion, demotion and a ball-busting new boss (Oscar winner Kathy Bates), "The Office" continues to be "one of the best comedies on television" (Alessandra Stanley, The New York Times). Now fans can own all 26 season six episodes on Blu-ray or DVD in this multi-disc collectible set that features more than 2 and a half hours of uproarious bonus features including the original digital short "The Podcast," deleted scenes, bloopers, commentaries, behind-the-scenes interviews and two never-before-seen extended episodes.

"The Office" Season Six is based on the award-winning BBC hit of the same name and developed for American television by Primetime Emmy Award-winner Greg Daniels. Ricky Gervais, Stephen Merchant, Ben Silverman, Paul Lieberstein and Howard Klein join Daniels as Season Six executive producers.

The stellar ensemble cast includes Golden Globe-winner and Emmy nominee-Carell, Jenna Fischer, John Krasinski, Rainn Wilson, B.J. Novak, Ed Helms, Leslie David Baker, Brian Baumgartner, Kate Flannery, Mindy Kaling, Angela Kinsey, Paul Lieberstein, Oscar Nuñez, Phyllis Smith, Creed Bratton, Craig Robinson and Ellie Kemper. Outstanding Season Six guest stars include Christian Slater and Kathy Bates.

Each season since its 2005 premiere, "The Office" has garnered prestigious television honors, including the 2006 Emmy Award for Outstanding Comedy Series, 2006 Peabody Award, 2006 and 2008 AFI Honor, Producers Guild Award, Writers Guild Award, SAG Award for Outstanding Performance by an Ensemble in a Comedy 2007 and 2008, Ace Eddie Award for editing and a Television Critic's Association Award for Outstanding Achievement in Comedy. "The Office" is currently nominated for four Primetime Emmy Awards, including Outstanding Comedy Series and Outstanding Lead Actor for a Comedy Series for Steve Carell. "The Office" is a production of Universal Media Studios, Reveille LLC and Deedle Dee Productions.


Bonus Features Exclusive To Blu-ray: Unleash the power of your HDTV with perfect picture and the purest digital sound available.

-BD-LIVETM: Access the BD-LiveTM Center through your Internet-connected player to get even more content, watch the latest trailers and more!
-Exclusive Content: The first-ever chance to watch "The Office" Season Seven episodes on your television via BD-Live the day after they air on NBC.
-My Scenes: Bookmark your favorite scenes from the series.
-pocket BLU: USHE's groundbreaking pocket BLU app uses iPhone, iPod touch, iPad, Blackberry, Android, Windows and Macintosh computers and more to work seamlessly with a network-connected Blu-rayTM player and offers advanced features such as:
-Advanced Remote Control: A sleek, elegant new way to operate your Blu-ray player. Users can navigate through menus, playback and BD-Live functions with ease.
-Video Timeline: Users can easily bring up the video timeline, allowing them to instantly access any point in their favorite episode.
-Mobile-To-Go: Users can unlock a selection of bonus content with their Blu-ray discs to save to their device or to stream from anywhere there's a Wi-Fi network, enabling them to enjoy exclusive content on the go, anytime, anywhere.
-Browse Titles: Users will have access to a complete list of pocket BLU-enabled titles available and coming to Blu-ray. They can view free previews and see what additional content is available to unlock on their device.
-Keyboard: Enter data into a Blu-ray player with your device's easy and intuitive keyboard.

"The Office" Season Six on Blu-ray and DVD comes with hours of bonus features, including:
-Digital Short "The Podcast:" In the uncensored version of the digital short "The Podcast," Gabe (Zach Woods) tries to impress corporate by recording a podcast for the Sabre website. However, his plans for a small meaningful, profile of Kevin (Brian Baumgartner) quickly unravel as the rest of the office forces Gabe to become the reluctant host of a late night style talk show.
-Welcome to Sabre Featurette: Full-screen version of the corporate welcome video starring Kathy Bates and Christian Slater
-Episode Commentary: Commentaries featuring the cast and crew of The Office on episodes such as "The Promotion," "Niagara," "The Lover," "Murder," "Secret Santa," "Sabre," "The Delivery" and "Happy Hour."
-More than Two Hours of Deleted Scenes
-Two Extended Episodes
-Blooper Reel
-The Office Promos: Dwight's Tribute to Canada

Experience the ultimate way to enjoy "...TV's best comedy" (Alex Pappademas, GQ), "The Office," with this must-own five-disc set that includes every Season Six episode, plus an uncensored original digital short, hours of deleted scenes and much more! Follow Michael (Carell), Dwight (Wilson), Jim (Krasinski), Pam (Fischer), Ryan (Novak), Andy (Helms) and the rest of the Scranton crew as they pursue new heights of inappropriateness while facing everything from new romances, marriage and parenthood to new ownership, Darryl's (Robinson) rise to middle management and a ball-busting new boss! Developed for American television by Primetime Emmy Award winner Greg Daniels, "'The Office" is so funny it hurts" (Joanna Weiss, The Boston Globe)!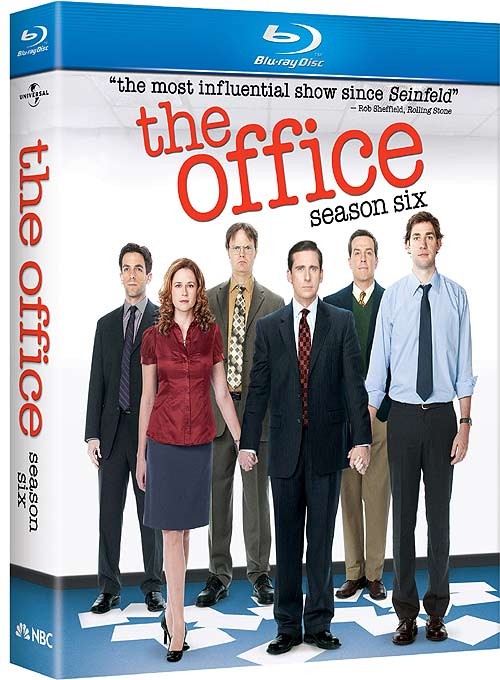 Click for more great pictures from "The Office":
Click for more great pictures:
Please visit TheOfficeDVD.com for more information.