'The Office': Season Five Lands On DVD Sept. 8; Win A Copy!

The laugh-out-loud, documentary-style look at the professional and personal lives of the employees of struggling paper supplier Dunder Mifflin, "
The Office
: Season Five" comes to Blu-ray Hi-Def and DVD on September 8, 2009 from Universal Studios Home Entertainment - the first of the hilarious series to be presented on Blu-ray Hi-Def! All 26 hilarious Season Five episodes of the Prime-time Emmy Award-winning series-including two extended episodes-come together in a must-own five-disc collectible set with hours of hysterically funny bonus features, deleted scenes and behind-the-scenes interviews.
In addition, fans have a chance to win a once-in-a-lifetime opportunity. Two DVD copies of "The Office: Season Five" hold hidden "Golden Dunder Mifflin Tickets," which entitle the lucky finders and a guest to a trip to Los Angeles to visit the set of "The Office". Complete rules will be contained within the DVD packaging.
An always irreverent and often poignant look at the 9-to-5 world, "The Office: Season Five" is based on the award-winning BBC hit of the same name and developed for American television by Emmy Award winner Greg Daniels. The stellar ensemble cast includes Golden Globe winner and Emmy nominee
Steve Carell
,
Jenna Fischer
,
John Krasinski
,
Rainn Wilson
,
B.J. Novak
,
Melora Hardin
,
Ed Helms
,
Leslie David Baker
,
Brian Baumgartner
,
Kate Flannery
,
Mindy Kaling
,
Angela Kinsey
,
Paul Lieberstein
, Oscar Nunez,
Phyllis Smith
, Creed Bratton and
Craig Robinson
. Outstanding Season Five guest stars include
Amy Ryan
and
Idris Elba
.
Each season since its 2005 premiere, "The Office" has garnered prestigious television honors, including the 2006 Emmy Award for Outstanding Comedy Series, 2006 Peabody Award, 2006 AFI Honor, Producers Guild Award, Writers Guild Award, SAG Award for Outstanding Performance by an Ensemble in a Comedy, Ace Eddie Award for editing and a Television Critic's Association Award for Outstanding Achievement in Comedy.
Starpulse Giveaway: Enter to win "The Office" Season Five on DVD - Click here for details!
Fringe Benefits
Exclusive Blu-ray Hi-Def bonus features include:
-"One-Liner Soundboard" - Allows the user to string together one-liners and quotes from the show to create your own character audio mix that you can share with friends via BD -LIVE
-BD-LIVE - Access the BD-Live Center through your Internet-connected player and watch the latest trailers, download exclusive content and more!
"The Office": The Complete Season Five on Blu-ray Hi-Def and DVD comes with reams of bonus features, including:
-Episode Commentary with the Cast and Crew of "The Office"
-Over Three Hours of Deleted Scenes!
-Gag Reel
-The Academy of Television Arts and Sciences Presents "The Office"
-Four Webisodes
-"The Office" Promos: Beijing Games and XLIII Football Championship
The latest season of the ultimate workplace comedy finds the employees of fictional paper company Dunder Mifflin enmeshed in surprise office hook-ups, break ups, romantic triangles and new business ventures. In a subversively funny look at corporate life, self-important, insensitive regional manager Michael Scott (Carell) still thinks he's the best boss ever-despite overwhelming evidence to the contrary! As Michael leaves the security of Dunder Mifflin and strikes out on his own, Andy (Helms) and Dwight (Wilson) do battle for Angela's (Kinsey) affections, and Jim (Krasinski) and Pam (Fischer) finally plan their long awaited nuptials.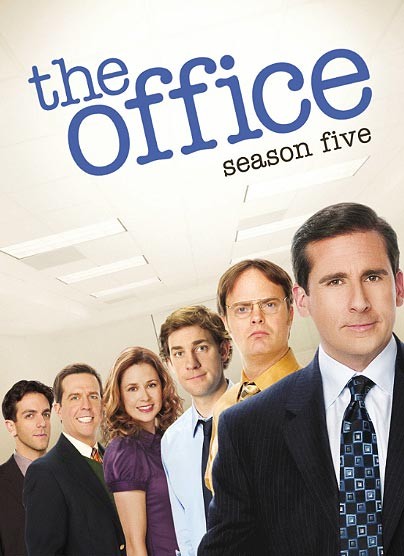 Starpulse Giveaway: Enter to win "The Office" Season Five on DVD - Click here for details!
Please visit
TheOfficeDVD.com
for more information.