'The Office' Recap: Double Date

Dwight decides to bring in authentic New York bagels. If you're thinking this is an unusually nice thing for Dwight to do then you'd be right. He's trying to get everyone in
The Office
to "owe him one" so that he can cash in the favor later in order to get Jim fired. But Dwight wants to know why everyone thinks he might be up to something. As he says to camera, "Can't a guy buy some bagels for his co-workers so they'll owe him, so he can cash in on it later and get someone fired who stole the co-manager position he didn't deserve anymore? Geez, when did everyone get so cynical?"
Michael has arranged to take Helene out for a birthday lunch with Pam and Jim. He's hoping this will win Pam over and smooth things out between them. Ryan is asking Erin if she's ever been photographed as he's showing her his portfolio when Helene arrives. Helene gives Pam a hug. Michael tries to hub both of "his girls." Pam pulls away quickly. The office asks Pam to introduce them to Michael's girlfriend. Pam says everyone should already know her mom from the wedding. Michael hands Helene a bag that says Happy Birthday on it. Helene asks if the bag is another present for her because he already gave her one. He placed a necklace on her neck as she was sleeping. She woke up to find her that she was already wearing her present. Then they had sex but Michael doesn't want to share about that so he tries to scuttle them off to lunch. Just as they are about to leave Erin tells Pam that she has a phone call. Pam answers and says there's a shipping emergency and she can't go to lunch. Jim takes the phone from Pam and says a quick, "That's great," then hangs up. Jim tells Pam the paper was there all along. Creed tells camera that paper was never supposed to arrive. Good old creepy Creed.
While in the car on the way to lunch Helene suggests that Pam spend more face time with her clients and it might improve her sales. Jim says Pam's sales are just fine. Michael says he just wants what's best for his "Pammy." Then Michael suggests that they don't talk about work while they're out to lunch.
When they arrive at the Italian restaurant they see that Michael has arrangements for a special birthday table to be decorated just for Helene. There are balloons and a banner which reads, "Happy Birthday." Pam is touched by the gesture. Once they're all seated Michael says the restaurant makes him want to go to Italy. Helene says he'll love it and that he can have her guidebooks because she's done with long plane rides. Pam asks her mom which birthday they're celebrating this year. Helene says 49. Pam says that will make eight years in a row and it's become they're longest family tradition. Michael slowly starts to freak out. He does the math on Helene's age wrong and gets 54. She corrects him and says she's 58. He starts asking her if she would be interested in things like snow-boarding or bungee-jumping or doing a triathlelon. She says no. Michael asks if it's because she has no interest. She says no, maybe when she was younger she would have but not at her age. Michael tells camera that the only time a person should care about someone's age is if they are too young and Helene definetley is not too young. He says he is not robbing the cradle, if anything he's robbing the grave.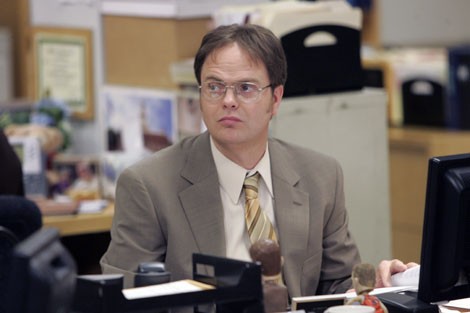 Helene opens her present from Michael. It is a scrapbook of they're first days together. There's a penny that Helene threw into a fountain. Helene loves it. Michael points out that it's creepy and weird because he waded into the fountain and found her penny after she left and now her wish won't come true. Then Helene reads the poem that Michael wrote in the scrapbook. Michael downplays everything and says he plagerized and it sucks. It's the beginning of "Sick" by Shel Silverstein but Michael has changed the ending to read, "And my teacher is mean. Happy birthday, I love you Helene." Helene loves it, Pam says, "Homerun Michael."
By now you can see where this is going. Later Pam finds Michael at the bar. He says he went to the bathroom and stopped at the bar because he got thirsty. Michael says to camera that he thought he was going to spend the rest of his life with Holly and then he met Helene and she's done everything he wants to do and she can tell him all about it. He wants someone who he can do those things with. He tells Helene to finish her cake because he wants her to have a good birthday memory because he has to say something awful. He tries to break up with her the first time by using Pam's feeling as the reason. Pam, of course, forgives Michael and says she sees that she's making her mom happy and that makes her happy. Michael then has to congratulate Pam for growing and breaks up with Helene by saying he wants to go to Italy and have kids and her parts are no longer working "down-there."
Meanwhile back at the office Andy is obsessively paying back the favor that Dwight did for him in the morning. Since Dwight brought bagels Andy repaired, shined and buffed out Dwight's briefcase. Dwight tries to give Andy a health tip. Andy straightens Dwight's tie. To camera Andy explains that is someone sends him an invite he RSVP's before anyone else, if someone sends him a gift he sends a thank-you card immediately and if someone does him a favor he does one right back. He says to camera, "Don't test my politeness." Later Andy buys a catered Mexican lunch for the office. Dwight decides to make the tacos for everyone. Dwight cleans up after lunch. Andy gives Dwight a gift card from Starbucks for $15. Dwight gives up and tells camera that this was a waste of a day. He could have grown poison mushrooms by now instead.
Back at the office Michael tries to bribe Pam by giving her a raise so that she will be nice to him again. She says she doesn't want a bribe. He asks what she does want, a million dollars or to hit him? She says yes, she wants to hit him. Pam decides to hit him in the face after work, in the parking lot. Toby checks in with Pam to tell her that as long as it's after work and in the parking lot then it's okay. Then he teaches her some hitting techniques to make sure she hits him with all of her force.
Once in the parking lot Pam tries to hit Michael in front of the entire staff, but he keeps flinching. Michael apologizes to Pam for dating her mother. Pam tells Michael to never date any member of her family. They agree, Pam goes to walk away and Michael just has to say, "Your mother came on to me." Pam turns around and with all of her strength slaps Michael across the face. Phyllis screams out, "Holy crap!" Michael starts to cry. Jim pulls Pam away and asks her if that made her feel better. She says no. Michael limps back into the office. Dwight tries to console Michael and asks why he's limping Michael doesn't know so he stops.
Back in Michael's office, Dwight puts a piece of frozen chicken on Michael's face to take down the swelling. Michael thanks Dwight and tells him he owes him one. Dwight says he wants to cash in the favor and tells Michael to fire Jim. Michael says no. Then Dwight says to have Michael make him a co-manager too, they can be a tri-managers. Michael says no again. Then Dwight asks for his own office. Again Michael says no. Dwight finally gives up and tells Michael to keep his favor since it's worthless. Then Dwight takes his chicken breast back too since it's his dinner. And the moral to this week's episode is: no good deed goes unpunished.
by Erin MacMillan-Ramirez
The Office
stars:
Steve Carell
/
John Krasinski
/
Jenna Fischer
/
Rainn Wilson
/
B.J. Novak
/
Melora Hardin
/
Mindy Kaling
/
Brian Baumgartner
/
Leslie David Baker
/
Kate Flannery
/
Ed Helms
/
Angela Kinsey
/
Phyllis Smith
Image © NBC Photo: Trae Patton
Story by
Erin MacMillan-Ramirez
Starpulse contributing writer