'The Office' Q&A With Ed Helms And Paul Lieberstein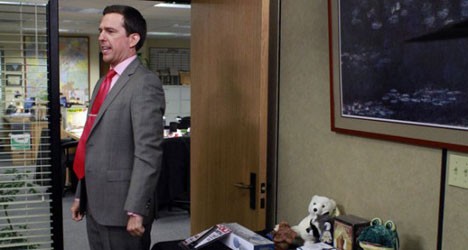 "Ed Helms is just an unbridled genius and it was important to us to capitalize on that." This is the answer given when the question is raised as to why the producers of NBC's "The Office" decided to promote from within to fill the Branch Manager position when Steve Carrell left the show at the end of last season. The answer was given by Ed Helms himself, joking of course, but his fake bravado isn't far off.
Helms, who plays Andy Bernard on NBC's hit show, has launched to superstardom in the past few years thanks to his addition to "The Office." So why has Helms become so popular as of late? The former "The Daily Show" correspondent uses Andy Bernard as an example: "[He] is in a lot of ways an opportunity for me to exercise some of my own demons of insecurity and social awkwardness. So he is a heightened version of those aspects that I think I have and that most of us have to some extent." That everyman quality that most people can relate to is definitely one of the reasons for his recent success.
But back to the original question: Why wasn't Carell's spot filled by a big name star to draw viewers. Paul Lieberstein, who is an executive producer and plays HR rep Toby, says, "The answer was clear when we said our cast is amazing…we don't want anybody else." Lieberstein goes on to explain that, "We still want to write for our cast…we were never really considering changing the focus to anyone else but our people."
That's not entirely true. At the end of last season, Will Ferrell appeared in the last several episodes as potential replacement as DeAngelo Vickers. This season, the eighth, Hollywood veteran James Spader has come on board as Robert California, the new CEO of Dunder Mifflin. "[James] is a wonderful sort of benevolent and cheerful guy," Helms says of Spader, in contrast to the "creepy and odd characters" he has played in the past. "That is a fantastic energy to have on set."
So how is Andy dealing with the new boss? "Robert California is an aggressively confident person who seems to take a lot of pleasure in exerting his power," Helms explains. "That's not something that Andy is particularly well-equipped to deal with and that is exactly why it is so fun." Lieberstein agrees that there is a "comic dynamic where [Andy] can deal with someone interested in toying with him, so it's a go-to place."
Another lingering question has to do with the relationship between Andy and Erin, played by Ellie Kemper. Helms admits, "They're a pretty odd pair because they have very strong emotions and very poor communication skills." But, this season there is an added complexity to the possible romance. "Now with Andy's new boss position," says Helms, "there's a power dynamic that comes into play which just makes all of that tension and awkwardness that much more difficult." Apparently, this season's Halloween episode will touch on those issues.
Not only will Andy be dealing with his feelings for Erin, he may also have a new antagonist which will be played by singer Josh Groban. "It was Mindy Kaling's idea. She thought of Josh," Lieberstein explains. Helms, who will work very closely with Groban, says, "Josh is a kind of fun teaser because obviously he is musical and we all know that Andy has a penchant for music. [The episode] takes a compelling turn that I think is unexpected." Helms goes on to point out, in a vague manner, that "the source of the rivalry might not be what you expect."
Will the show be better or worse without Steve Carell and Michael Scott? Right now, it's hard to tell, but if nothing else, this season is shaping up to be pretty terrific in its own right.
"The Office" airs on Thursdays on NBC.