'The Office' Marks End Of An Era At Wrap-Up Party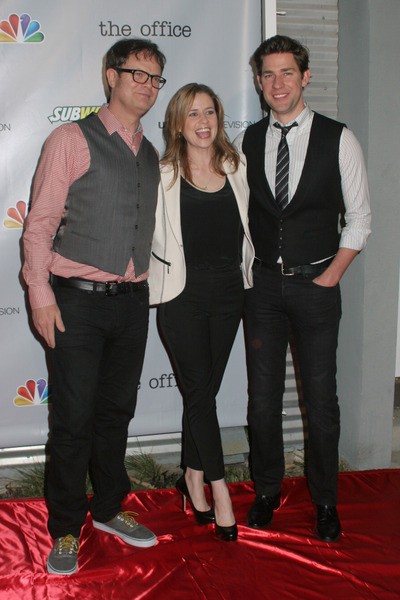 Actors John Krasinski, Rainn Wilson and Jenna Fischer marked the end of their long-running series The Office on Saturday during an emotional wrap-up party in Los Angeles.

The cast shot the remainder of the hit comedy's season finale over the weekend, and to celebrate the show's nine years of success, they headed to Unici Casa in Culver City for a bittersweet celebration with co-stars Ed Helms and Ellie Kemper.

It proved to be a tough day for the group - taking to Twitter.com, Krasinski wrote in a post, "Last day of shooting... There is truly nothing any of us can say that could be enough. But to each and every fan of our show we simply say... We love you... You are the reason we made it on air...

"You're the reason we stayed on this long... And you're the reason we all had the time of our lives! It was the greatest honor to be a part of this show! Thanks for getting behind it."

The Hangover star Helms added, "Last day of shooting on The Office... Kind of hard to act and blubber at the same time."

And just before heading over to the party, Wilson uploaded a somber image, with a simple caption that read, "The empty set. 8:30PM 3/16/13".

Funnyman Steve Carell, who left the series in 2011 to focus on his movie career, was noticeably absent from the event - he was promoting his new film comedy The Incredible Burt Wonderstone.

However, he did take time out to wish his former castmates good luck, tweeting, "Thinking of the cast, crew, writers, et al of 'The Office' on your final day of filming. Love you."

And as the actors walked the red carpet for their final bow as stars of The Office, Helms insisted the group would continue to remain the best of friends, telling Entertainment Weekly, "We hang out as it is, so there will be much more of that. These are my dearest friends and family."