'The Office' Gets Schooled

A strange heavy breathing can be heard all over
The Office
. Then the sound of someone laughing but trying not to laugh is heard.ains, "This morning the phone guy comes in and he shows Michael that our phones have a PA function and then he just left." Michael makes announcements such as, "This is your captain speaking, the office will be flying at an altitude of two stories. If you look out your left window you'll see Vance refrigeration." Which Creed actually does and looks confused while doing it. This goes on far too long and includes a conversation to Michael's doctor about a suspicious mole and whether he can stick it with a pin or not. Jim has finally had enough so he palms a pair of scissors behind his back, walks into Michael's office, pretends as if he lost something on the floor near Michael's desk the day before and cuts Michael's phone line. Then walks casually out of Michael's office and gets back to work while Michael continues to use his PA system as if nothing is wrong with it.
Michael and Pam exit separate hotel rooms and have a silent breakfast then get ready to get on the road. Michael explains that David Wallace has asked Michael to go on a speaking circuit while Pam loads very heavy luggage into the car. Michael likes to pack heavy so there's no room in the trunk for the last suitcase. Pam has to put it on the backseat. And of course Michael brought along his toboggan because, "you never know when you'll come across a snowy hill." He of course will be skipping a visit to Nashua, where Holly was transferred to after David found out about the affair between Michael and Holly. Pam has agreed to be Michael's "hot roadie" because it pays time and a half for twenty-four hours for three days and she has some bills to pay. Michael just has to mention that they drive during the day and stay in hotel rooms at night. "Separate hotel rooms," Pam quickly points out. "That goes without saying," says Michael. "Well I'm saying it," clarifies Pam. Michael doesn't like the conservative cardigan Pam has decided to wear. He thinks she should wear something sexier while she is his sexy assistant.
Watch a deleted scene from the 'Lecture Circuit' episode:


Kelly comes into work with an attitude. When Jim says, "Hey Kelly." He is met with "Screw you," from Kelly. Dwight tries to defend Jim saying, "That is no way to address a superior." Kelly's response, "Screw you too." Apparently they forgot her birthday. It was the day before and they both forgot, as Phyllis is only too happy to point out. Michael felt that after Phyllis blackmailed Angela over Angela's affair with Dwight that no one woman should have total party planning committee power. Apparently in the office absolute power corrupts absolutely. So he makes Jim and Dwight in charge of party planning and they are not very good at it.
Kelly tells the camera that she got all dressed up and looked really pretty and not one person wished her a happy birthday. She thinks that, "Sometimes people are just mean to the hot popular girl."
While driving Michael needs silence or
Sam Kinison
to prepare. Pam says he just falls asleep and then she's bored. He suggests they talk. Suddenly silence seems like a wonderful idea to Pam. The "Nard Dog," Andy's nickname for himself, sees a very beautiful woman coming into the building with Stanley and decides that he should ask her out. Phyllis says she is way out of his league. Andy says he's been with plenty of beautiful women. Phyllis asks, "Sexually?" Andy replies, "This conversation is over." Andy explains to camera that he is single now and there is a battle going on between the "Nard Dog" and crippling post break-up depression. Ah yes, what every girl looks for, the pungent smell of desperation and self-loathing.
Jim and Dwight ask Kelly how they can make things right. She says her only wish is that something so terrible never happen to anyone else, ever. She feels in a way that it was lucky that it happened to her since she can bear it. Dwight cuts her off and asks, "What kind of cake do you want?" She answers quickly, "Ice cream." Apparently the only thing anyone needs to do to make up forgetting someone's birthday is to buy them an ice cream cake.
Michael's first speech is at Karen's office. Karen, you know, Jim's ex-girlfriend Karen. Yeah she comes out to greet Michael and Pam and she's pregnant. Not just a little pregnant but like almost going to pop pregnant. Michael freaks out. This is the second surprise pregnancy he's had to deal with in recent months, the first being Jan and the artificial insemination. Michael's first question is, "Is that Jim's?" Karen answers, "Of course not." Then he says, "Wow you're huge! I'm sorry my head is exploding. I'm just trying to figure out the last time you and Jim had sex." Karen moves things along by saying, "Let's just get this over with."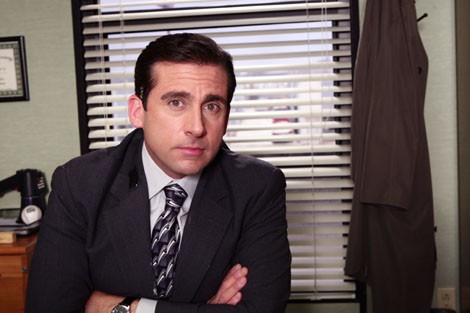 Jim checks in on Dwight's birthday decorating techniques. Dwight has chosen brown, grey and black balloons because they "match the carpet." And has put up a sign that says, "It is your birthday." Jim points out that there's not even an exclamation point after it. Dwight says it's more professional that way, "and besides it's not like she cured Cancer or something." Jim also points out that the balloons are only halfway filled. They do look like weird little balloon grenades. Jim says, "I can't believe how bad this looks." Dwight responds, "Are you trying to hurt my feelings because if so you are succeeding, fortunately my feelings regenerate at twice the speed of a normal man's." Then he asks Jim how much he's collected from everyone. Jim says, "Six dollars." Dwight yells, "Dammit Jim that's how much we contributed."
Andy looks inside the beautiful woman's car to see what CD's she has in order to get a feeling for what music she listens to and what they might have in common. Then he sets off her car alarm and runs away.
Michael decides to begin his meeting by taking a cell phone call just outside the meeting room and then telling everyone that his Father just passed away and then telling them that he didn't really die but he got them to believe that his Father was dead. To further his point he says, "My Father is alive and this isn't even a cell phone it's a calculator but you bought it and now you can't return it." He explains that they are selling an experience and if they can get the customer to believe in the experience they will make the sale. Karen points out, "But now we think you are a liar." Michael answers, "Would a liar bring mini Mounds bars?" And then Pam throws a bunch of mini Mounds bars at the listening audience. They don't move a muscle. Michael explains to camera that he is a very theatrical person and he almost became an actor. He has little memorization tricks, for example, he memorized the Pledge of Allegiance by singing it to the tune of Old McDonald Had A Farm.
Watch Michael's trick for remembering people's names:


Michael explains to the group that he need not know anything about a person to sell to them. He has an amazing pneumatic device that he uses to memorize people's names. He then launches into a diatribe of insults while pointing to each person in the room. He says, "Shirty, mole, lazy eye, Mexico, baldy, sugar boobs, black woman. I have taken a unique part of who you are and I have used that to memorize your name." He points to the bald man, "Baldy, your head is bald, it is hairless, it is shiny, it is reflective like a mirror, M, your name is Mark." The bald man answers, "Yes." Michael says, "Got it, it works." Karen chimes in, "It's very insulting." Michael says, "Yeah, but it works." Then he suggests that they give it a shot. Baldy points out that they all know each other's names. Michael thinks it would still be a worthwhile exercise. Karen tells her staff that the meeting is over and asks Michael to go into her office with her. Michael follows saying, "She's pregnant, she is knocked up, k, Karen." Works like a charm.
Meanwhile Stanley is trying to close a sale with the beautiful woman in the lunchroom. She says she cannot accept their prices because her office just cut their budget. Andy interrupts to give them coffee. He sings a song to tell Stanley that he is a diabetic so he put Splenda in his coffee but he did not know what the beautiful woman, whose name is Julia, takes in hers so it has nothing in it. Smooth. Stanley confronts Andy asking, "Are you out of your damn mind?" Andy asks back, "Are you out of your mind? You brought in an angel like that and you didn't introduce me?" Stanley says it's because they are not friends and he did not think of it. Andy says they are friends and it hurt his feelings. Stanley agrees to introduce them only if Andy gives up two of his customers to Stanley.
Michael tries to explain the rest of his speech to Karen. She decides to distill all the information and send it in an email. Pam congratulates Karen on her pregnancy. Michael asks if there was a man or a sperm machine that did this. Karen says there's a man, her husband, Dan. Then she shows them photos of the happy couple together. Karen asks about how things are between Pam and Jim. Pam says, "Really great, we're engaged." Karen is really happy for her. They hug and have a moment. Michael leans into camera in front of their moment and says, "Old hatreds dissolve into new friendship." The girls looks at Michael in disgust.
-
Click to View Gallery
Andy takes over with Julia. He says, "In regard to bills should we send them to you or to your boyfriend." Julia answers, "No they can go straight to our billing address." Andy presses further asking, "How does your boyfriend deal with your phenomenal success? Does he feel threatened?" She answers that she does not have a boyfriend. Then Andy goes into the other room and asks for some help about how to get a date with Julia. Creed advises him to just go in and kiss her. Andy asks if that's too risky. Creed says, "Have I ever steered your wrong Jim?" Andy doesn't think this is a weird thing. He takes Creed's advice, walks Julia to her car and tries to kiss her. She gets offended but is very nice about it. Andy starts to mumble about how he just got out of a relationship and he's a mess and she says she did too and he asks if she wants to go to a mall and talk about it. She says a polite no to the mall idea and drives away as soon as possible. Andy explains to camera that they lost the account.
Jim calls Dwight to ask how old Kelly is. Dwight takes a guess or two. Jim gets frustrated saying, "Do you think I called you for your best approximation?" Dwight says he'll call Jim back. He looks up Kelly's personal confidential file and discovers that she was in Juvie for a while when she was a kid but that it in no way effects her job performance.
Michael thinks the speech went really well. He asks how Pam felt about Karen. Pam says she feels very good about it. She's happy for Karen and Karen is happy for her. Now she'll never wonder if she did something wrong and she has closure.
On the drive Michael is very quiet. Pam asks what's wrong. Michael says he is upset about Holly. He asks Pam if she remembers Holly. She plays dumb and says no. He says she worked in HR and had perfect boobs. Pam says, "Ah yes, perfect boobs, I remember now." Michael explains she was the love of his life and they had what she and Jim have but times a hundred. And she just left so he never got closure. He hasn't talked to her or seen her since. He just feels like he needs to go to Nashua and see her and get closure. Pam suggests they do it, just blow off the lecture in Rochester and just go see Holly. Michael agrees and then the "to be continued" sign pops up on screen.
Jim makes one final attempt to collect money for Kelly's party. He tells Creed that they are collecting three dollars from each person. Creed says he'd love to contribute and hands Jim a three-dollar bill with George W. Bush on it that he made himself. There really isn't anything more to say, a picture on a three-dollar bill speaks a thousand words.
The Office stars:
Steve Carell
/
John Krasinski
/
Jenna Fischer
/
Rainn Wilson
/
B.J. Novak
/
Melora Hardin
/
Mindy Kaling
/
Brian
Baumgartner
/
Leslie David
Baker
/
Kate
Flannery
/
Ed
Helms
/
Angela Kinsey
/
Phyllis Smith
Story by
Erin
MacMillan-Ramirez
Starpulse contributing writer