'The Next Iron Chef' Preview: Something Old And Something Bizarre

Two years ago the Food Network set out to find a culinary master to add to their stable of Iron Chefs. Michael Symon beat out 7 other contests to win the title, and he has since confounded contestants that dare challenge him (his record is 7-2-1). Now, once again, it's time to find
The Next Iron Chef
!
As far as we can tell, no current Iron Chef is being replaced by the winner of this competition - so there will be 6 Iron Chefs afterward. Yearning for that sixth spot are 10 contestants from a variety of backgrounds: Nate Appleman, Dominique Crenn, Brad Farmerie, Amanda Freitag,
Jose Garces
, Eric Greenspan, Jehangir Mehta, Seamus Mullen, Holly Smith, and Roberto Trevino. Of that group, three have been featured in "Iron Chef" as a challenger. Jose Garces defeated Bobby Flay in a melon challenge, Roberto Trevino was beaten by Mario Batali in a catfish battle, and Amanda Freitag lost to Flay by a single point in an Alaskan king crab challenge.
In the season premiere (Sunday, Oct. 4, 9 p.m. ET/PT), the chefs will arrive in Los Angeles to prove their skills in creating food out of a very familiar ingredient. Each chef will be given something that expresses their style and heritage. For example, Amanda Freitag was given beer due to her German background and the history of her father using it in stews; and Mumbai-born Jehangir Mehta was tasked with making something with his country's famous export, mango.
Already we have our resident free-speaker, Nate Appleman. After promising to go after everyone, he does just that after explaining his ingredient, country ham. He explains, "It takes a long time to cook, it's difficult to work with... not like an apple." Cut to Dominique Crenn and her apples!
After the 45 minute cook-off, "The Next Iron Chef" took the challenge in a very interesting direction: the chefs had to judge themselves. In came some strategy - do you speak the truth, do you massage egos for better comments when you present your food, bash every plate, or do you keep your mouth shut? Every one of those tactics was employed; would you believe that chef Appleman had no problem speaking his mind? In the end, each chef had to vote for a dish that wasn't theirs, knowing the winner would have an advantage in the next challenge.
That next challenge is a doozy. After getting all comfy with familiar ingredients, the chefs get some mystery items - and they seem like they're straight from "
Bizarre Foods with Andrew Zimmern
." Sea cucumbers, stinky tofu, jellyfish, grasshoppers, and unlaid eggs are among the food items. I don't want to give away too much, but let's just say the judges will butt heads as much as the chefs will over the dishes.
My early pick for the winner of the entire series is Jose Garces. He would be the first Latin American Iron Chef, plus he is the only contestant that has beaten a current Iron Chef in competition.
Stay tuned for the full recap Monday, as well as an exclusive interview with contestant Amanda Freitag!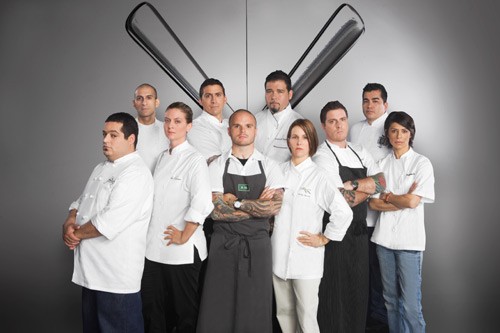 Images © The Food Network
Story by
Casey Johnson
Starpulse.com contributing writer