'The Next Iron Chef' Premiere Recap And Exclusive Interview With Contestant Amanda Freitag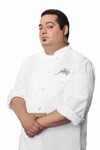 Last night was the premiere of
The Next Iron Chef
- the chefs showed they were well-matched, but some odd editing left us perplexed.
Check out the preview from last week
to get caught up.
We also had a chance to chat with contestant Amanda Freitag, who is featured on the network as a judge on Chopped. "I felt plenty of pressure but not because I already was a Food Network personality, I was just there to kick ass," she said. "When, not if, I become the Next Iron chef my viewers and challengers would meet with a deceptively sweet exterior and the toughest, most surprising chef in kitchen stadium."
The very first challenge of the season, in which chefs had to make a dish based on an ingredient reflective of their heritage, produced some interesting results - especially once the chefs were judging their peers. Chef Freitag had beer (Freitag is German for Friday, which alludes to beer), and she made a tribute to her father's beer stew. "Mostly I just drink beer, but of course I will carry on my father's beer stew recipe at home and maybe a refined version at
The Harrison
."
Eric Greenspan had Matzoh, as he apparently mentioned Matzoh balls to the producers as a dish his grandmother made. Unfortunately for him, he didn't exactly pay attention his dear old granny, because he had never attempted to make them previously! The intense environment and time limit did him in, and his peers were all too willing to knock his dish as "too heavy" - except Indian chef Jehangir Mehta, who politely suggested that if this was how his grandmother made it, she would be proud of his work.
Amanda Freitag got to show off her "look of disdain" when trying Holly Smith's kidney dish. You could read her face easily, and it wasn't as nice as her succinct "I was struggling with the kidney."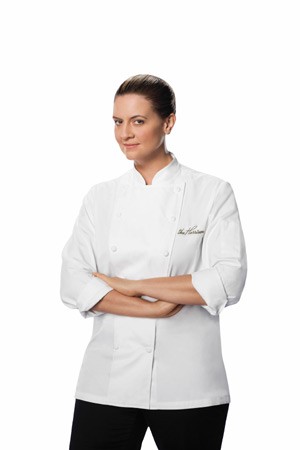 Amanda says working with her secret ingredient eel was tough. "I did experiment with eel in its whole state before, quite unsuccessfully and I learned a lot since that first experience with it and I would definitely work with it again." However, being the judge of her peers really put the pressure on. "One of the toughest things I had to do was critique my peers. It felt so uncomfortable and awkward. We all have such respect for each other and did not come there for that. I like to leave that to the judges."
Still, she likes to grow from her experiences: "I remember butchering my first chicken for a test at CIA and I just froze. I turn it in many different directions before I regained my sanity. Now one of my favorite things to do is butcher."
Our pick for the winner of the competition, Jose Garces, took home the win in the first challenge with his Ecuadorian Lucro despite Nate Appleman's comment on dry chicken. It appears chef Appleman subscribes to very simple dishes, and he has little (if any) self-censoring when it comes to speaking his mind. Appleman's highlight? When chef Holly Smith criticized his soup because "It was a little intense with the salt at the end," he shook his head and simply said "It was not." Dominique Crenn lied and said the soup was nice, before admitting to the camera in private that it was "bland." Why? Because she was up next! Her plan backfired, however, as Apple had no trouble saying "I didn't enjoy it" after tasting her dish.
Garces' advantage was either exchanging his surprise ingredient in the next round with someone else, or having two competitors swap. Garces was happy with his cockscombs, so he swapped Crenn's stinky tofu with Seamus Mullen's sea cucumbers. Chef Garces believed that Mullen was his largest competitor, and also thought that the stinky tofu would be the hardest ingredient to work with.
There were some odd edits during the judging portion. Each dish was judged with the presenting chef in the room, and the comments were rather devastating - when the judges weren't busy knocking heads over experience and palettes, that is. Once we were at the elimination portion, bad dishes were suddenly passable if not good altogether. For example, Holly Smith and her over-salty jellyfish dishes were saved because of a "morsel of flavor" that wasn't mentioned in the original judging.
In the end, though, Eric Greenspan's treatment of grasshoppers did him in. Not only was his ingredient simply baked and sprinkled into his dishes, the pork Milanese he made was described as "inedible." Chef Appleman, on the other hand, managed to win despite having one of the oddest ingredients: unlaid eggs - that's eggs still attached to fallopian tubes and pulled out of chickens during slaughter. Again, the two-face judging reared its head, as Appleman's unlaid egg pasta was ravaged by judge Jeffrey Steingarten yet it still took the top prize.
Next week, the chefs tackle ingredients using ethnic one-pot cooking devices, and then go into the elimination round re-interpreting classic dishes from around the world. We'd like to thank Amanda Freitag for taking time out for the interview; The Next Iron Chef airs Sundays 9 p.m. ET/PT on The Food Network.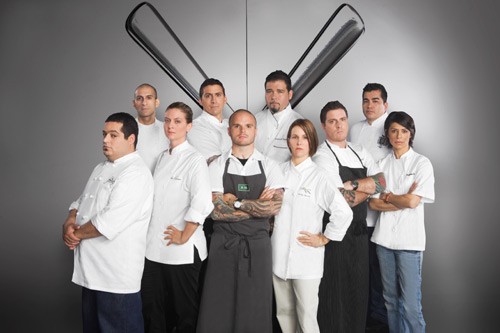 Images © The Food Network
Story by
Casey Johnson
Starpulse.com contributing writer