'The Newsroom's' Third Season Will Be Its Last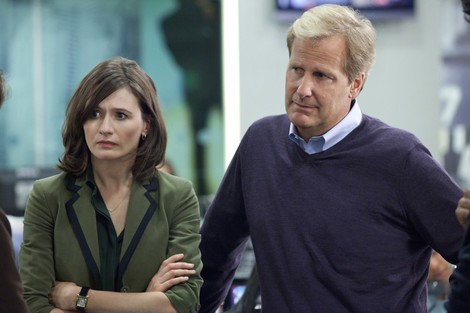 HBO series "The Newsroom" is getting canceled following its third season. According to the network, Aaron Sorkin's drama will begin production on its final season this spring.
HBO president of programming Michael Lombardo said on Monday: "The Newsroom is classic Aaron Sorkin - smart, riveting and thought-provoking. I'm sure this farewell season will be one to remember."
"The Newroom" centers on a cable news anchor (Jeff Daniels), his executive producer (Emily Mortimer),
newsroom staff (John Gallagher, Jr., Alison  Pill, Thomas Sadoski, Dev Patel, Olivia Munn) and their boss (Sam Waterston). Together they set out on a patriotic and quixotic mission to do the news well in the face of corporate and commercial obstacles and their own personal relationships.
Daniels won an Emmy Award for "Outstanding Lead Actor in a Drama Series" for the show in 2013. It has also been nominated for two Golden Globe Awards.