'The Newsroom' At PaleyFest: The Cast On Season 2 And The Show's Success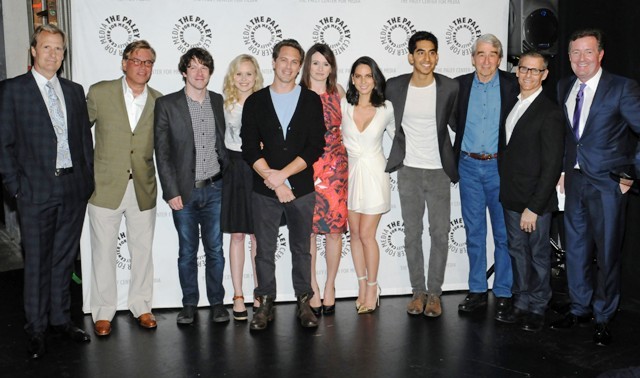 HBO's The Newsroom is fantastic. Shows like it are the reason we have TV in the first place. But what exactly makes the show such a phenomenon? At Sunday's Paley Center for Media evening celebrating the series, I spoke with several members of the cast to find out what they think makes it great - and learned a few things about what's coming up in Season 2.
For John Gallagher, Jr., who plays the ever so endearing Jim Harper, he knew the show was something special "When I read the pilot. I'd been an Aaron Sorkin fan for years but I thought when I read the first episode, I thought he'd completely outdone himself," he explained. "It had all the things that you love about Aaron Sorkin, but with some new twists that seemed a little bit more aware, like he was pushing things forward. I thought if I'm responding to this the way that I am and it hasn't even been shot yet, I can only imagine how magical it's going to be when it all comes together."
"I had that hope, maybe not that belief, from the instant I first read the pilot," agreed Thomas Sadoski, the man behind former NewsNight executive producer Don Keefer, who's been The Newsroom's most pleasant surprise with how many shades he's brought to his character. "I said 'We're really doing something here. We're really talking about something important and worthwhile and I hope that we can do justice to the ideas that Aaron is putting out there.'"
Added the venerable Sam Waterston, who gets some of the funniest lines as ACN news director Charlie Skinner: "I think it laid its cards on the table in that first long speech that Jeff [Daniels] gave at the very beginning. I thought it was a stunning piece of writing and an absolutely fabulous piece of acting, and then the balloon stayed in the air."
"We just started having fun from the very beginning," he added. "I knew I wanted to do it from the first time I heard about it, and there was never any reason to doubt that feeling."
Yet as anyone who's even remotely aware of his brand can discern, working on an Aaron Sorkin series is something different from being on any other show. Just ask Gallagher, who actually appeared on The West Wing ten years before he was cast in The Newsroom. "I'm really still very starstruck by [Sorkin] coming to set every day," he continued. "He's such an iconic person. He's so larger than life in his writing and in his personality that he's just a very exciting person to be around."
Being a fan, did he have a favorite other series from the award-winner's TV history? "It's very hard to pick," he admitted. "I just love The West Wing; I think it's such an amazing show. But I love Sports Night as well. I remember watching that show with my dad."
Olivia Munn, who plays economist Sloan Sabbith, praised Sorkin's constant presence on the Newsroom set. "What's really unique about Aaron is that, he's writing every single episode and then he's there for every read-through. We do every walkthrough with the cameras with Aaron there, and for every first three takes Aaron is there. Then he goes back and he keeps writing," she explained. "He really becomes a teammate, and is the best captain that you could ask for, because these are his words and he's there helping us pull it together. I don't think a lot of people have the time and energy to do that."