'The Newsroom' And Five Other TV Shows That Are About TV Shows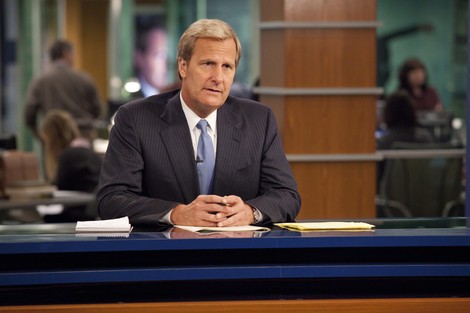 Aaron Sorkin's new show, The Newsroom, certainly isn't the first show to be made about the behind-the-scenes working of a TV show. In fact, it's the third time Sorkin has done it himself!
The Newsroom premiered last night on HBO, so we thought we'd take a look back at five of our favorite TV shows that are about TV shows. The following are our favorites… what are yours? Leave them in the comments.
1. 30 Rock (2006 - present)

It's hard to imagine that when 30 Rock premiered, it actually went up against Studio 60 from the Sunset Strip, which was from Sorkin. TV critics knew only one could survive, and many might not have originally guessed 30 Rock would be the one that did.
But thanks to Alec Baldwin's manic Jack Donaghy, the breakout character of Kenneth and a bevy of guest stars like Matt Damon that haven't yet turned the show into the mess that became Will and Grace, 30 Rock was the show left standing and is prepping its final season this year on NBC.
2. Home Improvement (1991 - 1999)

More than any other show on this list, Home Improvement showed the most scenes from its show-within-a-show. Each week we'd see Tim Taylor and sidekick Al trying to add "more power" to some DIY project on "Tool Time." While we got a lot of subplots at home, it was the time on the "Tool Time" set we remember the most. OK… that might have been because of Pamela Anderson…
3. Sports Night (1998 - 2000)

If I'm going to add a Sorkin show from this list, it will definitely be the much more brilliant of the other two shows. Starring actors who went on to many other incredibly successful shows like Felicity Huffman and Peter Krause, the show really seemed to hit its stride at the end of season one, only to lose it a bit with plots that went all over the place in season two. (Jeremy dating a porn star? Please.) The show ends on a great note, setting up a new boss and dynamic for the following season—something we never got to see unfortunately.
4. Extras (2005 - 2007)

And on the flip side, I hated the first season of Ricky Gervais' comedy about a struggling actor, but came to love the second season where he seemed to hit it big—by selling all of his creative ideals in pursuit of a role on a hit sitcom. Which was terrible. Like really, really terrible. But that's what made it so funny to watch, especially when he was forced to deliver one-liners that made him cringe.
5. The Larry Sanders Show (1992 - 1998)

Watch the Larry Sanders show now and you'll see a perfect pop culture zeitgeist of who's who in entertainment in the early to late 90's. Garry Shandling played neurotic host Larry Sanders, but the true star of the show were his real-lifeguests, who often played against type for a joke. (My favorite plot-line might be when Larry thought David Duchovny was in love with him.)