The New 'Transformers: Age Of Extinction' Poster Is Very Michael Bay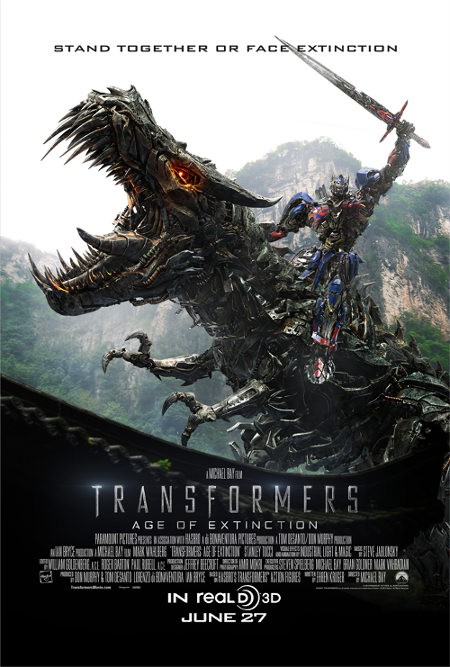 While the previous Transformers films relied on explosions and mordern ordnance, it looks like Age of Extinction is going prehistoric – in robot form, anyway.
A recent release of new media for the upcoming summer blockbuster featured a poster of Optimus Prime in full ""Fantasy Novel Hero Pose" with a Dinobot as his trusty steed (Grimlock, to be specific). We did get a look at Optimus wielding a sword and shield on top of Grimlock during the Super Bowl spot in February, but only for a few moments.
Dinobots have been a fan favorite for some time – and why not, since they are the amalgamation of two childhood obsessions: robots and dinosaurs – so they are a prime candidate to help revive the Transformers franchise.
Of course, "revive" might be too harsh considering the last installment, Dark of the Moon, made over a billion dollars worldwide at the box office. However, Age of Extinction features a completely different human cast (including Mark Wahlberg, Brenton Thwaites, Nicola Peltz, and Kelsey Grammer) that will have to prove it can support the battling 'bots.
Transformers: Age of Extinction is currently set for a June 27 release.