'The New Normal' Delivers Laughs, Shows Promise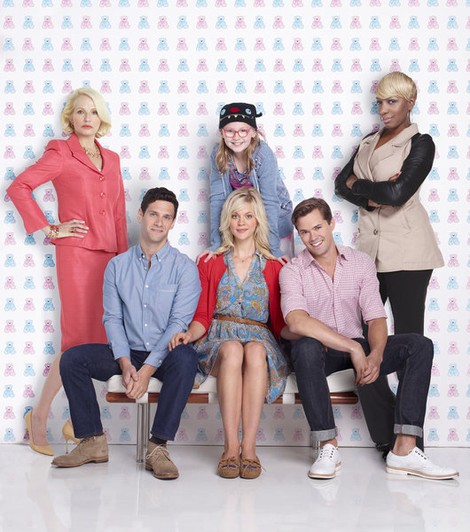 'The New Normal' is probably the most "normal" show Ryan Murphy has created so far. 'Glee' is about outcasts, to a certain extent. And while 'Normal' features characters who are sometimes subjected to bigotry, they are people who are by and large mainstream.
A gay couple asking a newly single mother to be their surrogate mother is not the shining star concept of a TV show various family councils and TV stations in Utah may have hoped for. But the situation, which five years ago probably would not have made it to air, seems practically, well, normal by Hollywood standards. Remember the days when that "lesbian" kiss on 'Roseanne' caused such a fuss? On this show, same-sex kisses are so every day that they're boring, and that's the point.
The show follows David (Justin Bartha) and Bryan (Andrew Rannells), a same-sex couple who long for a baby. After Bryan convinces his sports-watching partner that having a baby would be a great idea, they seek the help of a surrogate. As it turns out, that process isn't as easy as they'd hoped.
Their surrogate coordinator (Michael Hitchcock) is loopy to say the least, and their first candidate blackmails them.
Meanwhile, Goldie (Georgia King), who got pregnant with Shania (Bebe Wood) when she was just 15, catches her husband cheating on her. That sets off Goldie's grandmother (Ellen Barkin), who casually pulls a gun on him and makes various outrageous threats.
Goldie runs off with her daughter for a few days, but eventually she decides surrogacy would be a good idea, and a TV show is born.
The only real weak link is NeNe Leakes, a former reality show star, as an assistant. She's not terrible, but her character is stereotypical and underwritten. The same can't be said for Ellen Barkin's Nana – if anything, she's overwritten. Barkin barks her dialogue with the skill of a 'Modern Family' cast member, but sometimes what she's forced to say is so bigoted, she comes off as a complete shrew. Still, you know there's a soft spot underneath her shallowness, and if Murphy tones down her Sue Sylvester qualities, she might become quite an appealing character. Barkin is certainly doing her best.
King is winning, and both Rannells and Bartha make for a sweet couple. Let's hope the show grows – but only in quality. All of Murphy's shows – 'Nip/Tuck,' 'Glee' and 'American Horror Story' – grew in scope, but some of those went on to become rather ridiculous parodies of themselves. If this show sticks to its normal and sweet tones, some great TV might be produced this season.